Yumbolt Autoflower Cannabis Seeds
Secure the prime Yumbolt Autoflower Cannabis Seeds online in the USA. These superior cannabis seeds are available and swiftly shipped to all states nationwide.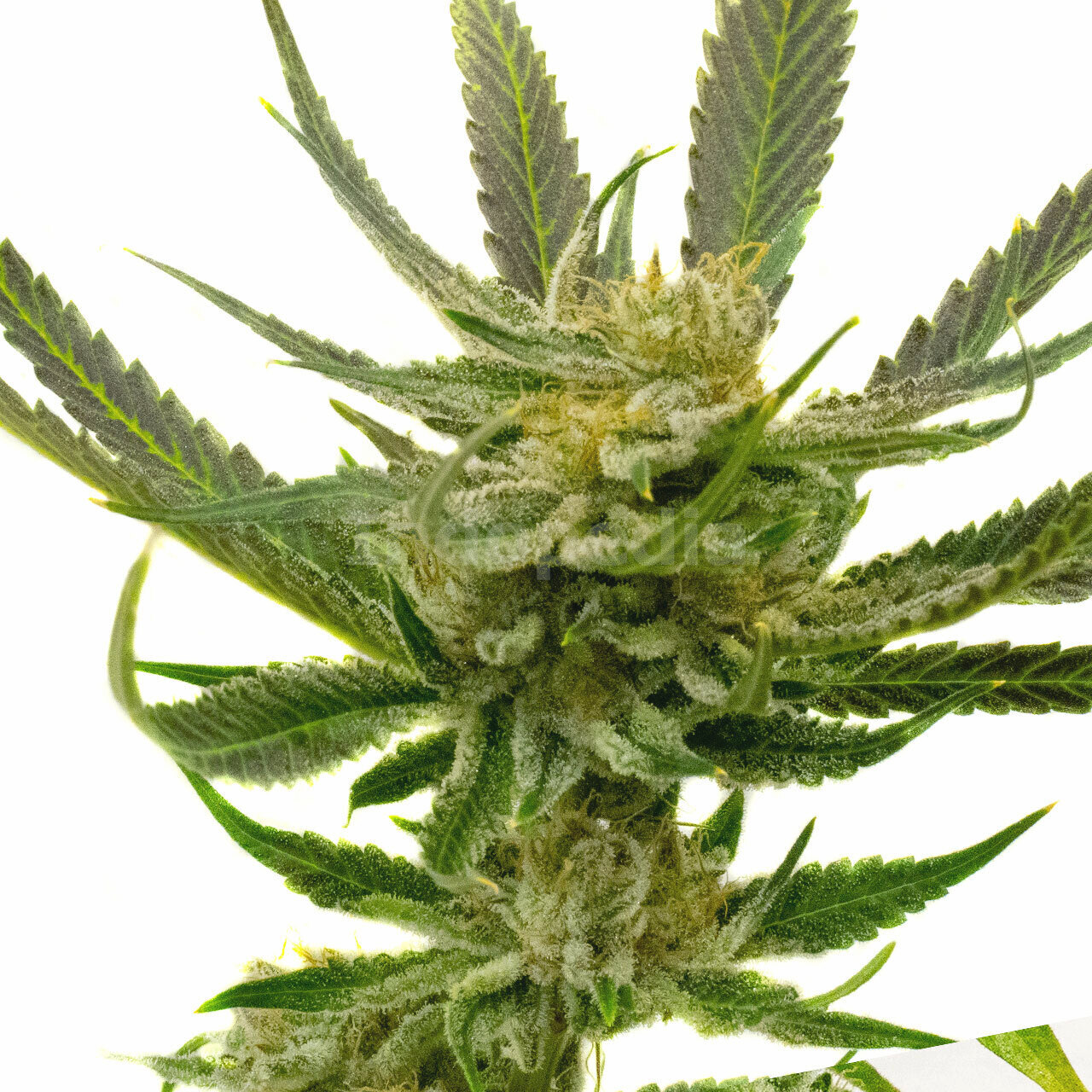 Price Per Seed:
$
9.25
Categories: Autoflower, Indica
Introduction to Yumbolt Autoflower Cannabis Seeds
Looking to buy Yumbolt Autoflower cannabis seeds online in the USA? Look no further! Indopedia's seed bank has you covered. With a wide selection of top-quality seeds for sale, we are your go-to source for all your marijuana cultivation needs. Whether you're an experienced grower or just starting out, our Yumbolt Autoflower seeds offer a hard-hitting cultivar that is sure to impress.
Fast US-Based Shipping
At Indopedia, we understand the importance of fast and reliable shipping. That's why we offer fast shipping to all fifty states. Our discreet packaging ensures that your order arrives safely and securely. Plus, we offer free shipping on orders over $99! Don't wait any longer - order your Yumbolt Autoflower seeds today and experience the convenience of shopping with a trusted American seed bank.
Key Characteristics of Yumbolt Autoflower
Matures independently of light cycles
Straightforward and low-maintenance
Compact crops suitable for most growing environments
Harvest time is roughly eight weeks after germination
Buds are small and dense with a luscious shade of green and orange hairs
Impressive blend of terpenes
Genetics and Origins of Yumbolt Autoflower
Yumbolt Autoflower seeds stem from a cross between two powerful cultivars - Yumbolt and Lowrider 2. The origins of Yumbolt are believed to include Afghani and Himalayan landrace strains, while Lowrider 2 is a high-yielding autoflower legend. This unique blend of genetics results in a potent and productive strain that is sure to satisfy both recreational and medicinal users.
Feminized Seed Advantages
Indopedia's Yumbolt Autoflower seeds are feminized, meaning they will produce all-female plants. This offers several advantages, including eliminating the need to identify and remove male plants, which can reduce yields and quality. With feminized seeds, you can focus your efforts on growing high-quality buds without the worry of unwanted pollination.
Benefits of Autoflowering Seeds
If you're a grower looking for convenience and flexibility, Yumbolt Autoflower seeds are the perfect choice. Unlike photoperiod strains, which require specific light cycles to transition from one growth phase to another, autoflowers mature based on their age. This makes them ideal for both indoor and outdoor growers, as they can be cultivated year-round regardless of the season or light conditions.
Yumbolt Autoflower Seeds Germination Guide
Choose the paper towel method for germination:
Place a dinner plate on a dry surface
Dip a paper towel in water, squeeze out excess liquid
Place Yumbolt Autoflower seeds on the damp towel
Cover with another damp paper towel
Cover setup with a second dinner plate
Keep in a warm, dry spot and check daily for moisture levels
Small white taproots should appear within 1-5 days
How to Cultivate Yumbolt Autoflower
Cultivating Yumbolt Autoflower cannabis seeds is a rewarding experience. These plants are hardy and low-maintenance, making them suitable for growers of all skill levels. Whether you choose to grow indoors or outdoors, provide your plants with plenty of sunshine and a warm, Mediterranean climate. Use premium soil or hydroponics to ensure optimal growth and yields.
Yumbolt Autoflower Growing Difficulty
Yumbolt Autoflower seeds are relatively easy to grow, making them suitable for growers of all experience levels. Their short life cycle and natural resistance to mold and pests make them a great choice for beginners and intermediate growers alike. With proper care and attention, you'll be rewarded with bountiful harvests of high-quality buds.
Flowering Time of Yumbolt Autoflower
Once your Yumbolt Autoflower marijuana seeds germinate, you can expect the plants to reach full maturity within eight weeks. The flowering phase lasts approximately two weeks, during which the buds develop and mature. If growing indoors, you have control over the light cycle, allowing you to maximize bud development. Outdoor growers can expect their final yield by mid-October in the Northern Hemisphere.
Average Height of Yumbolt Autoflower
Yumbolt Autoflower plants grow to a compact height of 2-4 feet, making them suitable for both indoor and outdoor cultivation. If space is a concern, you can use height management techniques such as topping or low-stress training to keep your plants at an ideal height.
Yield of Yumbolt Autoflower
When it comes to yields, Yumbolt Autoflower does not disappoint. Outdoor varieties produce an average of 12 oz per plant, while indoor crops offer an average of 14 oz per square meter. To increase your yield, provide your plants with proper nutrition, lighting, and care throughout their life cycle.
Quality of Yumbolt Autoflower Buds
The buds produced by Yumbolt Autoflower plants are small yet dense, boasting a luscious shade of green with orange hairs and a layer of trichomes. They exude fresh pine scents that entice you to take a toke. When you do, you'll experience a blast of sweet berries that tantalizes your tongue. These high-quality buds are sure to impress even the most discerning cannabis connoisseur.
Dominant Terpenes in Yumbolt Autoflower
Terpenes are aromatic compounds found in cannabis that contribute to its flavor and effects. Yumbolt Autoflower contains a rich fusion of terpenes, including pinene, linalool, camphene, and myrcene. Each terpene has its own unique properties, ranging from anti-inflammatory and anti-anxiety qualities to bronchodilation and sedation. The diverse terpene profile of Yumbolt Autoflower adds depth and complexity to its overall experience.
Smell and Taste of Yumbolt Autoflower
The aroma of Yumbolt Autoflower weed is reminiscent of a rainforest after a drizzle, with complimentary fragrances of pine, berries, and spice. After harvesting, the sweet smell of berries dominates, intensifying when the buds are crushed. When smoked, the pine notes come forward initially, followed by sugary fruit flavors. On the exhale, spicy notes linger, leaving a delightful blend of berries and pine on your palate.
The Effects of Yumbolt Autoflower
Yumbolt Autoflower is known for its hard-hitting effects. After just one or two tokes, you'll experience uplifting sensations and euphoria. This is followed by a complete body buzz that softens your limbs and helps you unwind. Many users report a case of the munchies, so be sure to have some food and beverages nearby. Yumbolt Autoflower is well-suited for nighttime use, as it often leads to a peaceful sleep.
Medical Uses for Yumbolt Autoflower
Yumbolt Autoflower cannabis buds are popular among medicinal users for their reported health benefits. With THC levels ranging from 12-24% and CBD content of approximately 0.7%, this strain offers potent effects that may help with various conditions. Users have reported relief from chronic pain, inflammation, stress, anxiety, depression, insomnia, and even post-traumatic stress disorder (PTSD). Each terpene in Yumbolt Autoflower contributes to its therapeutic qualities, making it a versatile option for medical cannabis users.
Buy Yumbolt Autoflower Cannabis Seeds Now in the USA
Ready to experience all that Yumbolt Autoflower has to offer? Don't miss out on the opportunity to buy these top-quality cannabis seeds from Indopedia's seed bank. With swift shipping, stealthy packaging, and a wide selection of strains on sale, we are your trusted source for purchasing weed seeds online in the USA. Order now and start your cultivation journey with Yumbolt Autoflower today!
Customer Reviews
Very pleased with my purchase. All seeds germinated, plants grew vigorously, and the buds were thick and potent. Will definitely buy again.
Growing these seeds was such an effortless experience. Strong, vibrant plants with an impressive yield. A+ in my book.
Holy smokes! These seeds produced some seriously sticky icky. The flavors are out of this world, and the high is next level. A must-try for any cannabis connoisseur!
Strain Data Table
| Attribute | Data |
| --- | --- |
| CBD Content | 0.7 percent |
| Climate Zones | Continental, Mediterranean, Sunny, Temperate |
| Difficulty | Beginner |
| Dominant Terpenes | Myrcene |
| Effects | Calming, Euphoric, Happy, Relaxed, Sleepy, Uplifted |
| Flavors | Berry, Earthy, Pine, Spicy, Sweet |
| Flowering Time | 8–10 weeks |
| Flowering Type | Autoflowering |
| Genetics | Yumbolt x Lowryder |
| Grows Best | Greenhouse, Indoor, Outdoor |
| Harvest Month | All Year |
| Indica / Sativa | Mostly Indica |
| Indoor Plant Height | 11–22 inches |
| Indoor Yield | 12 oz/m2 |
| Moods | Relaxed, Uplift |
| Outdoor Plant Height | 11–22 inches |
| Outdoor Yield | 2–5 oz/plant |
| Seed Sex | Feminized |
| Symptoms | Anxiety, Depression, Inflammation, Insomnia, Migranes, Nausea, Stress |
| THC Content | 24 percent |