White Russian Feminized Cannabis Seeds
Order the superior White Russian Feminized Cannabis Seeds for sale online in the USA. These top-tier marijuana seeds are available and quickly shipped to all corners of the nation.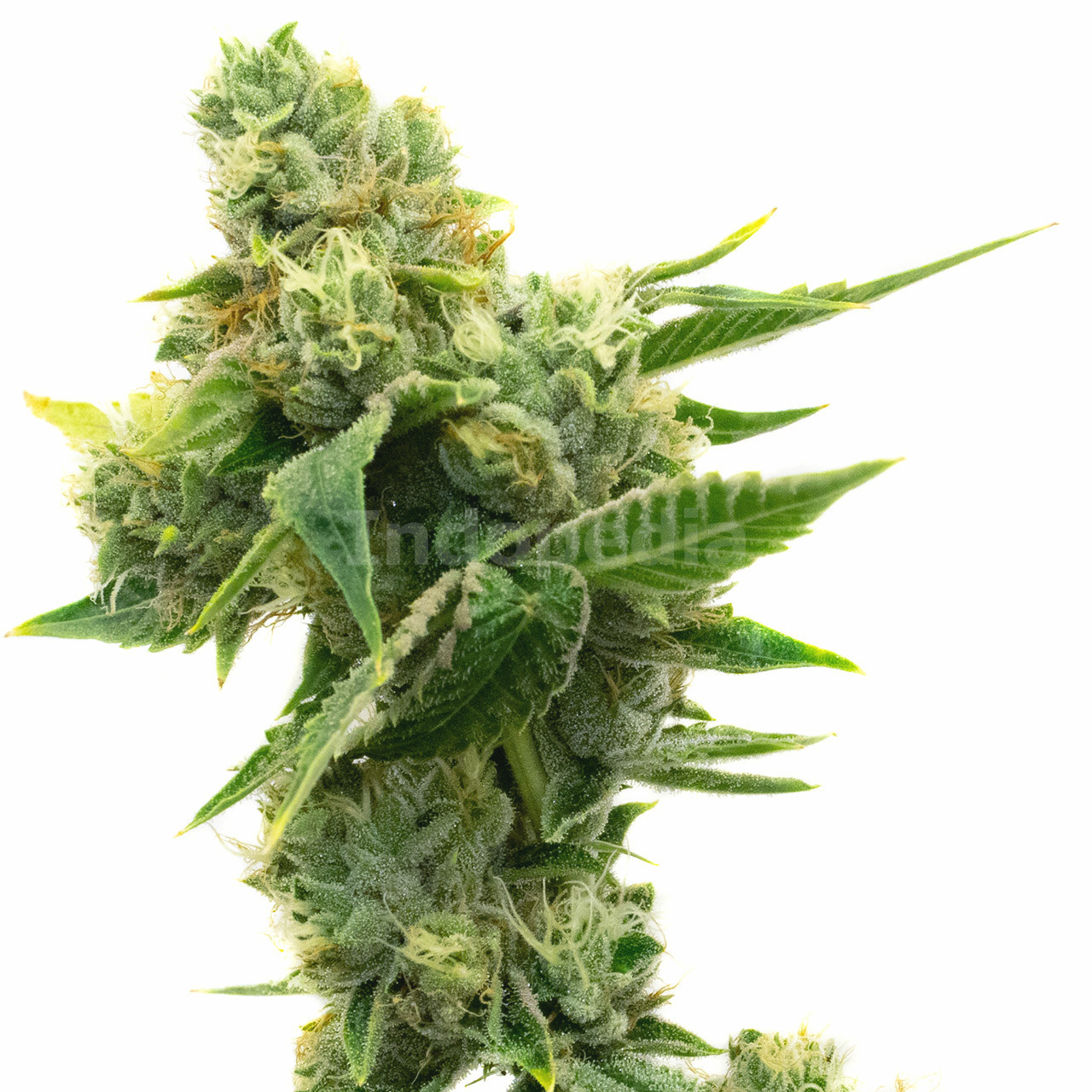 Price Per Seed:
$
9.38
Introduction to White Russian Feminized Cannabis Seeds
If you're looking for a powerful indica-dominant hybrid, look no further than White Russian feminized cannabis seeds. These premium quality seeds produce medium-height crops with pale green leaves. The buds are not only eye-catching but also exude enticing fragrances that will leave you intrigued. With impressive genetics and a rich blend of terpenes, White Russian is well-loved by both recreational and medicinal users for its relaxing qualities.
Fast US-Based Shipping
When you purchase White Russian feminized cannabis seeds from our American seed bank, you can expect fast shipping to all fifty states. We understand the importance of discreet packaging, ensuring that your order arrives safely and securely. Plus, we offer free shipping on orders over $99, making it even more convenient for you to get your hands on these amazing seeds.
Key Characteristics of White Russian
Indica-dominant hybrid
Medium-height crops with pale green leaves
Buds with woody flavor and fruity/spicy notes
High THC levels ranging from 13-18%
Relaxing effects ideal for recreational and medicinal use
Genetics and Origins of White Russian
White Russian feminized seeds stem from two legendary cultivars - AK47 and White Widow. Combining the best traits of both parents, this strain has garnered a massive fan base and received numerous awards over the years. With its high THC levels and enjoyable effects, White Russian is a favorite among medical users despite its low CBD content.
Feminized Seed Advantages
Feminized seeds, like White Russian, have become increasingly popular in the cannabis community due to their many advantages. These seeds guarantee an all-female crop, eliminating the need to separate males. This ensures that you can maximize your yield with high-quality buds. Additionally, feminized seeds tend to be more resilient and have a higher germination rate compared to regular seeds.
Benefits of Photoperiod Seeds
White Russian feminized seeds are photoperiod seeds, meaning they rely on light cycles to transition from vegetative growth to flowering. This makes them suitable for both indoor and outdoor cultivation. For indoor growers, you have complete control over the light cycle, allowing you to manipulate the plants' growth phases. Outdoor growers can take advantage of seasonal changes in light to guide their plants' development.
White Russian Seeds Germination Guide
Dip one paper towel into a bowl of water and wring it out gently.
Lay the damp paper towel flat on a dinner plate.
Place White Russian feminized seeds evenly spaced on the damp paper towel.
Dip another paper towel into water, squeeze out the excess fluid, and cover the seeds with it.
Cover the plate with another dinner plate and store it in a cool, dry spot.
Check daily and lightly spritz the paper towels with water if they feel dry.
Seeds should sprout tiny white taproots within 1-5 days.
How to Cultivate White Russian
White Russian feminized cannabis seeds are relatively easy to grow, making them suitable for novice growers. These versatile plants thrive in various grow mediums such as soil or hydroponics. Provide modest feeds of macronutrients and avoid overfeeding. Indoor crops require plenty of light exposure, while outdoor crops prefer drier climates. Pruning unnecessary foliage is essential for optimal light exposure and airflow.
White Russian Growing Difficulty
White Russian feminized seeds are considered to have a moderate growing difficulty level. However, their resilience and natural resistance to pathogens make them easier to maintain. Novice growers can gain experience with these hardy plants, while experienced growers can implement training and other crop enhancement strategies to maximize yield.
Flowering Time of White Russian
The plants grown from White Russian feminized seeds have a flowering time of 8-10 weeks. Indoor growers can expect their plants to be ready for harvest within this timeframe. Outdoor growers will typically harvest by the end of October. It's important to note that flowering times may vary slightly depending on individual plants and growing conditions.
Average Height of White Russian
White Russian cannabis plants reach medium heights, making them suitable for various grow spaces. Indoor plants usually grow between 1-3 feet, while outdoor plants can reach heights of 2-4 feet. If space is a concern, employing height management techniques such as low-stress training or pruning can help keep the plants at a manageable size.
White Russian Crop Yield
With proper care and cultivation techniques, White Russian feminized marijuana seeds can produce bountiful yields. Indoor growers can expect an average yield of 12-15 ounces per square meter, while outdoor growers can achieve up to 15 ounces per plant. Implementing techniques such as the Sea of Green method can further increase the yield.
Quality of White Russian Buds
White Russian buds are known for their exceptional quality. With a woody flavor complemented by fruity and spicy notes, each toke is a sensory delight. The buds have a complex fusion of flavors that leave a lasting impression. The strain's popularity is evident from the numerous awards it has received over the years.
Dominant Terpenes in White Russian
Cannabis grown from White Russian feminized seeds contains a rich blend of terpenes that contribute to its aroma and effects. The main terpenes found in White Russian are myrcene, caryophyllene, and pinene. Myrcene provides relaxing and sedative effects, while caryophyllene is believed to have anti-inflammatory properties. Pinene is known for its bronchodilator properties and potential benefits in anxiety and pain relief.
Smell and Taste of White Russian
White Russian buds have dank earthy aromas with sweet citrus notes. When crushed, the scent intensifies, revealing hints of wood and spice. The flavors are intense, with dominant lemon and earthy undertones. As the smoke swirls near your palate, the wood notes become more pronounced. When exhaling, you'll mainly taste citrus fruit and earth.
The Effects of White Russian
White Russian marijuana produces near-instant effects upon consumption. You'll experience an uplifting blast of euphoria that clears your mind and improves focus. It's an excellent choice for enhancing creativity and pairs well with artistic tasks. After an hour, the physical relaxation sets in without inhibiting mobility. The effects last for a couple of hours, making it ideal as an afternoon pick-me-up.
Medical Uses for White Russian
The White Russian cannabis strain is popular among medical users for its reported therapeutic benefits. Many users claim that it helps with physical conditions such as arthritis, soothing aching muscles and reducing chronic pain. It is also sought after for its potential benefits in treating stress, anxiety, depression, and insomnia.
Buy White Russian Cannabis Seeds Now in the USA
Don't miss out on the opportunity to grow your own White Russian cannabis plants. Our American seed bank offers high-quality weed seeds that are perfect for both recreational and medicinal cultivation. With fast US-based shipping and a wide range of payment options, purchasing White Russian feminized seeds has never been easier. Order your seeds today and experience the exceptional quality and benefits this strain has to offer.
Customer Reviews
These seeds have given me the best grow I've ever had. Consistent quality, great yield, and the buds are out of this world!
I'm amazed at how vigorous these plants are! The buds are beautiful and the smell is out of this world. Worth every penny.
Wow, these seeds be straight fire! Germination rate was off the charts, and the plants grew big and beautiful. A definite winner!
Strain Data Table
| Attribute | Data |
| --- | --- |
| CBD Content | 0.6 percent |
| Climate Zones | Continental, Mediterranean, Sunny, Temperate |
| Difficulty | Beginner |
| Dominant Terpenes | Caryophyllene |
| Effects | Creative, Energetic, Euphoric, Focused, Relaxed, Uplifted |
| Flavors | Citrus, Earthy, Spicy, Sweet |
| Flowering Time | 8–10 weeks |
| Flowering Type | Photoperiod |
| Genetics | White Widow x AK-47 |
| Grows Best | Greenhouse, Indoor, Outdoor |
| Harvest Month | October |
| Indica / Sativa | Mostly Indica |
| Indoor Plant Height | 15–23 inches |
| Indoor Yield | 12–16 oz/m2 |
| Moods | Focus, Recharged, Relaxed, Uplift |
| Outdoor Plant Height | 15–23 inches |
| Outdoor Yield | 21–28 oz/plant |
| Seed Sex | Feminized |
| Symptoms | Anxiety, Arthritis, Depression, Fatigue, Migranes, Stress |
| THC Content | 20 percent |