Tropicana Cookies Purple Feminized Cannabis Seeds
Order the unmatched Tropicana Cookies Purple Feminized Cannabis Seeds online in the USA. These superior cannabis seeds are in stock and quickly dispatched to all corners of the nation.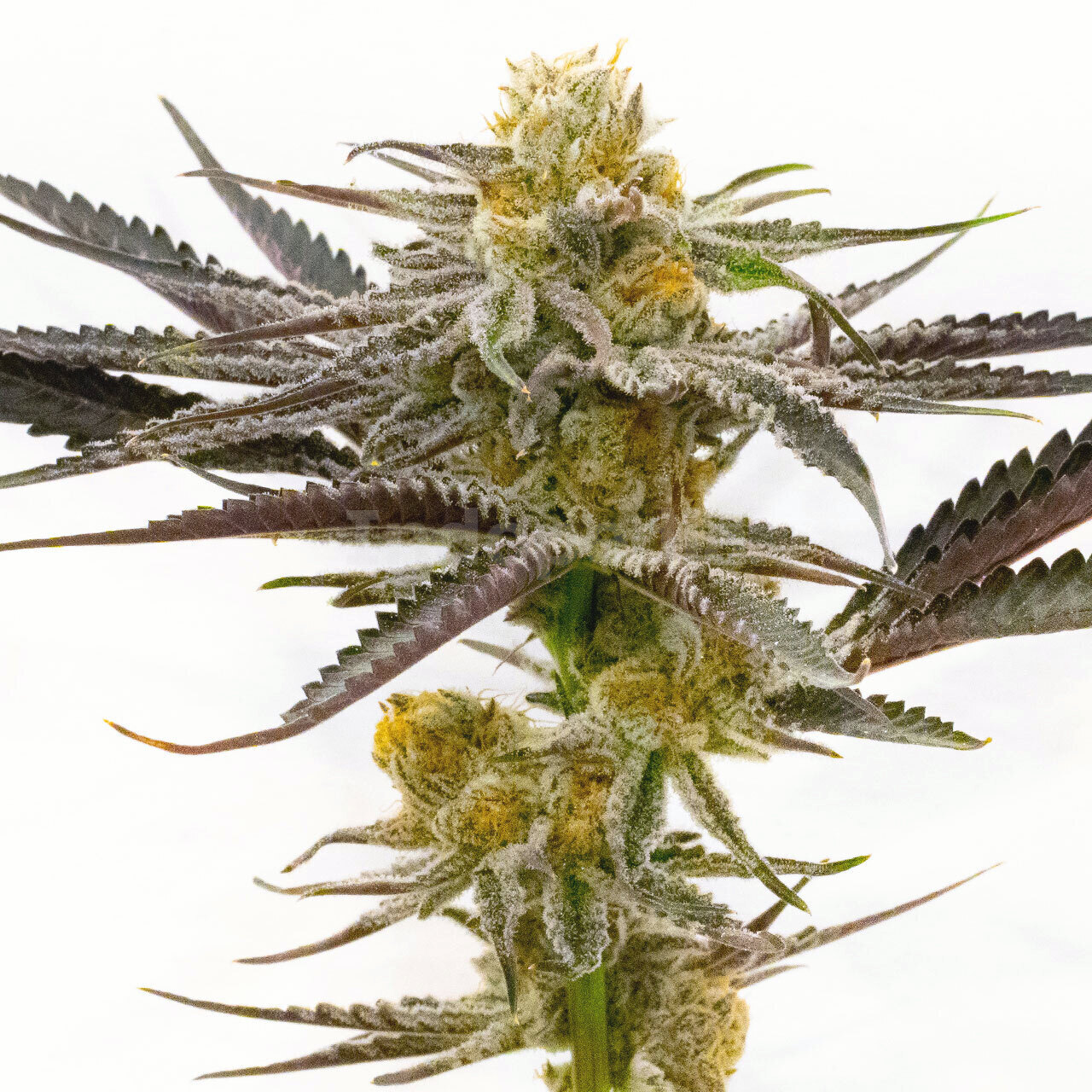 Price Per Seed:
$
9.58
Introduction to Tropicana Cookies Purple Feminized Cannabis Seeds
Looking to buy high-quality feminized cannabis seeds online in the USA? Look no further! At Indopedia, we have Tropicana Cookies Purple feminized marijuana seeds for sale. With their hassle-free cultivation and THC-rich buds bursting with sweet, fruity flavors, these seeds are a grower's delight and the epitome of utter indulgence. Whether you're a seasoned cultivator or a beginner, Tropicana Cookies Purple is the perfect strain to add to your garden.
Fast US-Based Shipping
When you purchase Tropicana Cookies Purple feminized cannabis seeds from Indopedia, you can expect fast shipping to all fifty states. We understand the importance of discreet packaging, so your order will arrive in plain, unmarked packaging for your privacy. Plus, we offer free shipping on orders over $99! When you order from us, you can trust that your package will arrive quickly and securely.
Key Characteristics of Tropicana Cookies Purple
Sativa-dominant hybrid
THC content: 22%
Sweet and fruity flavors
Dense, resinous nugs
Vibrant shades of purple (aesthetically pleasing)
Indica-like effects with a cerebral buzz
Euphoric and uplifting
Potential for deep relaxation and sleep
Genetics and Origins of Tropicana Cookies Purple
Tropicana Cookies Purple is the offspring of two incredible strains: Tropicana Cookies and Purple Punch. The sativa-dominant Tropicana Cookies brings rich aromas, high resin production, and uplifting cerebral effects to the table. Purple Punch, an indica-dominant hybrid, adds sedative effects and sweet, fruity flavors. These parent strains complement each other beautifully, resulting in a divine genetic combination that showcases itself in every aspect of Tropicana Cookies Purple.
Feminized Seed Advantages
Feminized seeds have become increasingly popular among growers for their many advantages. When you buy Tropicana Cookies Purple feminized cannabis seeds, you can be confident that you are purchasing female-only plants. This means you won't waste time or resources on male plants that don't produce buds. With feminized seeds, you can maximize your yield potential and ensure a bountiful harvest.
Benefits of Photoperiod Seeds
Photoperiod seeds, like Tropicana Cookies Purple, offer flexibility for both indoor and outdoor growers. They rely on light cycles to transition from the vegetative stage to the flowering stage. This allows growers to control the growth and development of their plants. Indoor growers can manipulate the light cycle to induce flowering at a specific time, while outdoor growers can take advantage of seasonal changes to trigger natural flowering.
Tropicana Cookies Purple Seeds Germination Guide
Gather your Tropicana Cookies Purple seeds.
Wet a paper towel with distilled water and place it on a plate.
Using sterilized tweezers, lay your seeds on the wet paper towel with about an inch of space between each seed.
Wet another paper towel and place it over the seeds.
Carefully remove excess water and cover the plate with another plate.
Keep the seeds in a dark, warm place.
Maintain moisture throughout the germination process.
After 1-5 days, your seeds will develop taproots and can be transplanted into seedling containers.
How to Cultivate Tropicana Cookies Purple
Cultivating Tropicana Cookies Purple is a breeze with the right knowledge and resources. These plants are sturdy and versatile, making them suitable for both indoor and outdoor cultivation. Here are some general tips for successful growth:
Regulate the temperature to keep your plants comfortable during the vegetative and flowering phases.
Maintain appropriate humidity levels for optimal growth.
Check pH levels regularly to ensure proper nutrient absorption.
Prune your plants regularly to improve airflow and light exposure to bud sites.
Consider using low-stress training techniques to boost yields.
Tropicana Cookies Purple Growing Difficulty
Tropicana Cookies Purple feminized marijuana seeds are suitable for growers of all skill levels. These plants are resilient and forgiving, making them a great choice for beginners. With proper care and cultivation techniques, you can achieve a successful harvest.
Flowering Time of Tropicana Cookies Purple
Tropicana Cookies Purple has a flowering time of approximately 9-10 weeks. Indoors, you can expect to transition from the vegetative stage to the flowering stage by changing the light cycle to 12 hours of light and 12 hours of darkness per day. Outdoor growers can anticipate a harvest by mid-October.
Average Height of Tropicana Cookies Purple
Tropicana Cookies Purple cannabis plants reach an average height of about 3 feet, making them suitable for small grow spaces. If you have limited vertical space, techniques like topping and low-stress training can help manage the height and promote lateral growth.
Tropicana Cookies Purple Crop Yield
After approximately 9-10 weeks of flowering, you can expect a yield of around 14-19 ounces per square meter indoors. Outdoor growers can achieve a harvest of about 14-21 ounces per plant. Implementing proper cultivation techniques and providing optimal growing conditions can increase your overall crop yield.
Quality of Tropicana Cookies Purple Buds
Tropicana Cookies Purple buds are visually stunning, with tightly-packed nugs doused in diamond white trichomes and wrapped in fiery orange pistils. While the shades of purple don't affect potency or flavor, they give the buds an otherworldly, ethereal appearance. The resinous nature of these buds adds to their stickiness and overall quality.
Dominant Terpenes in Tropicana Cookies Purple
Terpenes are organic compounds found in cannabis that contribute to its aroma and effects. Tropicana Cookies Purple contains a variety of dominant terpenes including myrcene, limonene, caryophyllene, and pinene. These terpenes contribute to the strain's unique fragrance and may play a role in its therapeutic benefits.
Smell and Taste of Tropicana Cookies Purple
Prepare your senses for a delightful experience with Tropicana Cookies Purple weed. The buds emit an earthy, dank aroma with a zesty, fruity tang reminiscent of sun-kissed blueberries, lemon rind, and ripe grapes. When smoked or vaporized, the buds produce a creamy, smooth smoke with a sweet-and-sour berry-lemon tang that lingers on the palate.
The Effects of Tropicana Cookies Purple
Tropicana Cookies Purple cannabis delivers a powerful cerebral buzz accompanied by a deep body stone. As the effects kick in, you'll experience an immediate tingly warmth that spreads throughout your body. Euphoria takes hold, enhancing perceptions and bringing a new perspective. The strain is known to promote relaxation and may lead to a peaceful slumber.
Medical Uses for Tropicana Cookies Purple
While Tropicana Cookies Purple may not have high CBD content, it still offers therapeutic benefits. The strain's anxiolytic properties make it useful for combating stress, anxiety, and depression. Its sedative effects can provide relief for insomnia and improve appetite. Additionally, Tropicana Cookies Purple has analgesic and anti-inflammatory properties that may benefit those with chronic pain conditions.
Buy Tropicana Cookies Purple Cannabis Seeds Now in the USA
Ready to add Tropicana Cookies Purple feminized cannabis seeds to your collection? Get started today and experience the delight of growing this exquisite strain. Indopedia offers fast shipping, discreet packaging, and a wide selection of high-quality marijuana seeds. Don't miss out on the opportunity to cultivate your own Tropicana Cookies Purple buds. Order now and enjoy the journey of growing your own cannabis at home!
Customer Reviews
I had a great experience with this seed purchase. The plants were easy to grow and the yield was excellent. The buds are absolutely top-notch.
Easy to cultivate and a fantastic yield. The high is potent and the smell is heavenly. And the purple colors give it unreal bag appeal. Five stars!
Absolutely top-shelf genetics! These seeds germinated like magic, and the plants showcased vibrant colors and trichome-packed buds. The potency is mind-blowing. A must-have strain!
Strain Data Table
| Attribute | Data |
| --- | --- |
| CBD Content | 0.5 percent |
| Climate Zones | Continental, Mediterranean, Sunny, Temperate |
| Difficulty | Intermediate |
| Dominant Terpenes | Myrcene |
| Effects | Euphoric, Happy, Relaxed, Uplifted |
| Flavors | Berry, Citrus, Earthy, Grape |
| Flowering Time | 8–10 weeks |
| Flowering Type | Photoperiod |
| Genetics | Tropicana Cookies x Purple Punch |
| Grows Best | Greenhouse, Indoor, Outdoor |
| Harvest Month | October |
| Indica / Sativa | Mostly Indica |
| Indoor Plant Height | 8–15 inches |
| Indoor Yield | 16 oz/m2 |
| Moods | Relaxed, Uplift |
| Outdoor Plant Height | 8–15 inches |
| Outdoor Yield | 18 oz/plant |
| Seed Sex | Feminized |
| Symptoms | Anxiety, Arthritis, Depression, Insomnia, Migranes, Stress |
| THC Content | 20 percent |