Rosetta Stone Feminized Cannabis Seeds
Buy the top-tier Rosetta Stone Feminized Cannabis Seeds online in the USA. These premium cannabis seeds are in store and promptly dispatched to all regions across the country.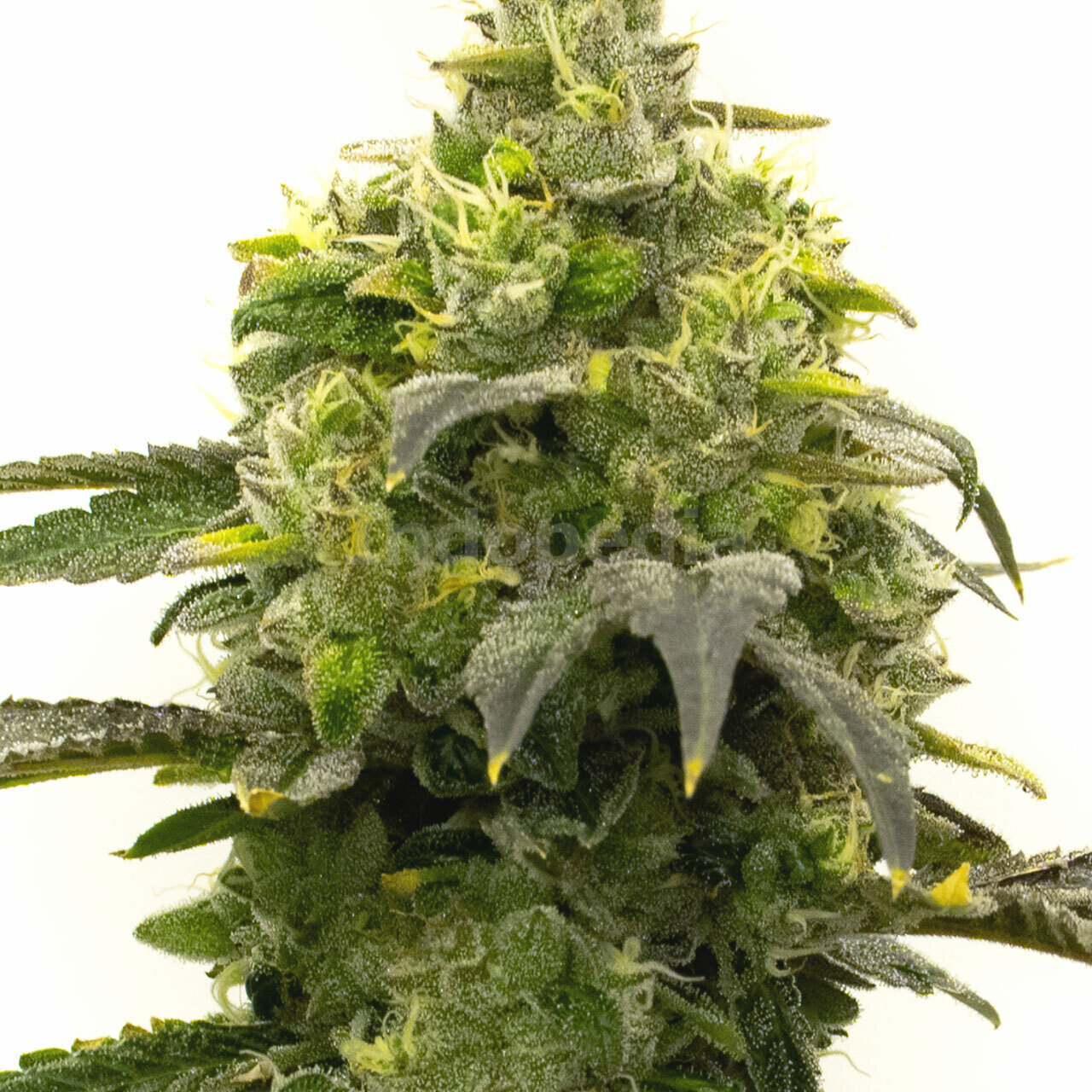 Price Per Seed:
$
9.38
Introduction to Rosetta Stone Feminized Cannabis Seeds
Experience the potent and balanced effects of Rosetta Stone feminized cannabis seeds, now available for purchase in the USA. These high-quality marijuana seeds are perfect for both beginner and experienced growers, offering generous yields and a remarkable balance of indica and sativa effects. With its lime green buds and bright yellow pistils, Rosetta Stone is a visually stunning strain that will revolutionize your cannabis cultivation experience.
Fast US-Based Shipping
When you buy Rosetta Stone feminized cannabis seeds from Indopedia, you can enjoy fast shipping to all fifty states. Our discreet packaging ensures that your order arrives safely and securely. Plus, we offer free shipping on orders over $99, making it even easier to get your hands on these top-quality seeds.
Key Characteristics of Rosetta Stone
Balanced hybrid with slight indica dominance
Lime green buds with bright yellow pistils
Potent THC content of 15-20%
Moderate to highly potent effects
Cerebral euphoria combined with relaxation
Boosts mental focus, creativity, and motivation
No couchlock or paranoia
Sweet, fruity aroma with hints of pine and earth
Flavor profile includes citrus, berry, and herbal notes
Genetics and Origins of Rosetta Stone
Rosetta Stone feminized seeds are the result of breeding a robust female Ginger Ale plant with a White Widow male. This resulting strain was then crossed with legendary Northern Lights to create the balanced and potent Rosetta Stone strain. The genetics of this strain ensure both generous yields and remarkable effects.
Feminized Seed Advantages
Feminized seeds, like Rosetta Stone feminized, are an excellent choice for growers due to their numerous advantages. These seeds are specially bred to produce only female plants, eliminating the need for sexing and ensuring that the plants will produce seedless buds. With a 99% success rate in producing female plants, you can have confidence that your crop will be filled with the sought-after buds this strain is known for.
Benefits of Photoperiod Seeds
Rosetta Stone feminized cannabis seeds are photoperiod seeds, meaning they require a specific light cycle to transition from the vegetative stage to the flowering stage. This makes them ideal for both indoor and outdoor growers who have control over their light cycles. By manipulating the light cycle, indoor growers can ensure optimal growth and flowering times, while outdoor growers can align their crop with the natural seasonal changes.
Rosetta Stone Seeds Germination Guide
Collect all the items you need for germination, including two dinner plates, two pieces of paper towel, tweezers, purified or bottled water, and your Rosetta Stone feminized seeds.
Dampen one piece of paper towel with purified water and place it on a plate.
Use tweezers to place the cannabis seeds on top of the damp paper towel, ensuring they are spaced at least an inch apart.
Wet the second piece of paper towel with purified water and cover the cannabis seeds.
Place the second dinner plate on top as a lid to create a dark and warm environment for germination.
Check regularly to ensure the paper towels do not dry out completely.
Your Rosetta Stone feminized seeds should sprout a half-inch white taproot within 24-120 hours.
How to Cultivate Rosetta Stone
Cultivating Rosetta Stone feminized seeds is a rewarding experience, whether you choose to grow indoors or outdoors. These plants have a short to medium height, making them suitable for indoor cultivation. However, they can also thrive in the right outdoor climate, such as a Mediterranean climate with warm, dry, and sunny conditions.
Rosetta Stone Growing Difficulty
Rosetta Stone feminized marijuana seeds are ideal for both beginner and experienced growers. While some pruning and shaping may be necessary due to the plants' dense colas, they have wide internodal spacing that reduces the risk of mold. By monitoring relative humidity and temperature, growers can avoid common issues such as bud rot and ensure a successful harvest.
Flowering Time of Rosetta Stone
Indoors, Rosetta Stone cannabis plants have a flowering time of approximately 55-65 days. Outdoors, they should be harvested no later than mid-October. By following the recommended temperatures and humidity levels, growers can maximize the quality and yield of their crop.
Average Height of Rosetta Stone
Rosetta Stone weed plants have a short to medium height, reaching around four feet when grown indoors. This makes them suitable for various indoor setups, including grow tents and cabinets. Outdoor growers can allow these plants to reach their full potential height, which may require some height management techniques to support the heavy, bulky buds.
Rosetta Stone Crop Yield
With their generous colas and branch-bending buds, Rosetta Stone marijuana plants can produce impressive yields. Indoor growers can expect to harvest approximately 14-17.5 ounces per square meter, while outdoor growers can achieve yields of up to 21-25 ounces per plant. By providing the right growing conditions and proper care, you can maximize the yield of your Rosetta Stone crop.
Quality of Rosetta Stone Buds
The buds produced by Rosetta Stone feminized seeds are visually stunning and highly resinous. The lime green buds with bright yellow pistils are coated in a snow of trichomes, giving them a glistening appearance. When broken apart, these sticky nugs release an aroma of citrus, pine, and hints of ginger. The flavor profile is a delightful combination of fruity berry flavors with herbal, woody, and earthy undertones.
Dominant Terpenes in Rosetta Stone
Rosetta Stone marijuana contains a variety of terpenes that contribute to its unique aroma and effects. The dominant terpenes in this strain include Farnesene, Linalool, Caryophyllene Oxide, Myrcene, and Beta Pinene. These terpenes work together to create the distinctive sweet, citrus, and fruity scent that Rosetta Stone is known for.
Smell and Taste of Rosetta Stone
The aroma of Rosetta Stone buds is a delightful combination of sweet, citrus, and fruity tones with underlying earthy scents and herbal hints. When smoked or vaporized, this strain offers a flavorful experience. The initial taste is dominated by fruity berry flavors, which later transition into more herbal, woody, and earthy notes. Some spicy undertones add an extra dimension to the exhale.
The Effects of Rosetta Stone
Rosetta Stone marijuana offers a balanced blend of indica and sativa effects that provide a remarkable experience. With a THC content of 15-20%, this strain delivers moderate to highly potent effects. The first few tokes bring about a cerebral euphoria, elevating mood and clearing the mind. Meanwhile, the indica dominance brings relaxation to the muscles and eases tension. The overall effect is a heightened mental focus and clarity combined with an energizing yet simultaneously relaxing charge. Users often report feeling motivated, creative, and enthusiastic, making it suitable for various activities.
Medical Uses for Rosetta Stone
Aside from recreational use, Rosetta Stone cannabis also offers potential therapeutic benefits. The strain's uplifting effects can help combat stress, anxiety, and depression by elevating mood and reducing tension. Some users report improved mental clarity and focus, making it potentially beneficial for those with ADHD or ADD. The strain's indica properties also provide muscle relaxant, anti-inflammatory, and analgesic effects that may help alleviate physical discomfort.
Buy Rosetta Stone Cannabis Seeds Now in the USA
Ready to experience the incredible balance and potency of Rosetta Stone cannabis? Look no further than Indopedia's online shop for all your seed needs. We offer top-quality seeds with fast shipping to all fifty states. Purchase your Rosetta Stone feminized seeds today and take your cannabis cultivation to new heights!
Customer Reviews
All seeds sprouted and the plants are looking great. Very satisfied with this purchase. Two thumbs up!
Extremely pleased with these seeds. Strong, healthy plants with a good yield. The flavor and effects are exactly what I was looking for.
Five stars all the way! These seeds took my grow game to the next level. My friends are begging for more of my homegrown stash!
Strain Data Table
| Attribute | Data |
| --- | --- |
| CBD Content | 0.4 percent |
| Climate Zones | Continental, Mediterranean, Sunny, Temperate |
| Difficulty | Intermediate |
| Dominant Terpenes | Myrcene |
| Effects | Energetic, Euphoric, Focused, Hungry, Relaxed |
| Flavors | Apricot, Berry, Citrus, Diesel, Earthy, Herbal, Pine, Spicy |
| Flowering Time | 8–10 weeks |
| Flowering Type | Photoperiod |
| Genetics | Ginger Ale x White Widow |
| Grows Best | Greenhouse, Indoor, Outdoor |
| Harvest Month | October |
| Indica / Sativa | Hybrid |
| Indoor Plant Height | 19 inches |
| Indoor Yield | 16 oz/m2 |
| Moods | Focus, Recharged, Relaxed |
| Outdoor Plant Height | 19 inches |
| Outdoor Yield | 32 oz/plant |
| Seed Sex | Feminized |
| Symptoms | Anxiety, Arthritis, Depression, Fatigue, Migranes, Nausea, Stress |
| THC Content | 19 percent |