Purple Urkle Feminized Cannabis Seeds
Order the top-notch Purple Urkle Feminized Cannabis Seeds online in the USA. These elite cannabis seeds are in stock and swiftly shipped to all states within the nation.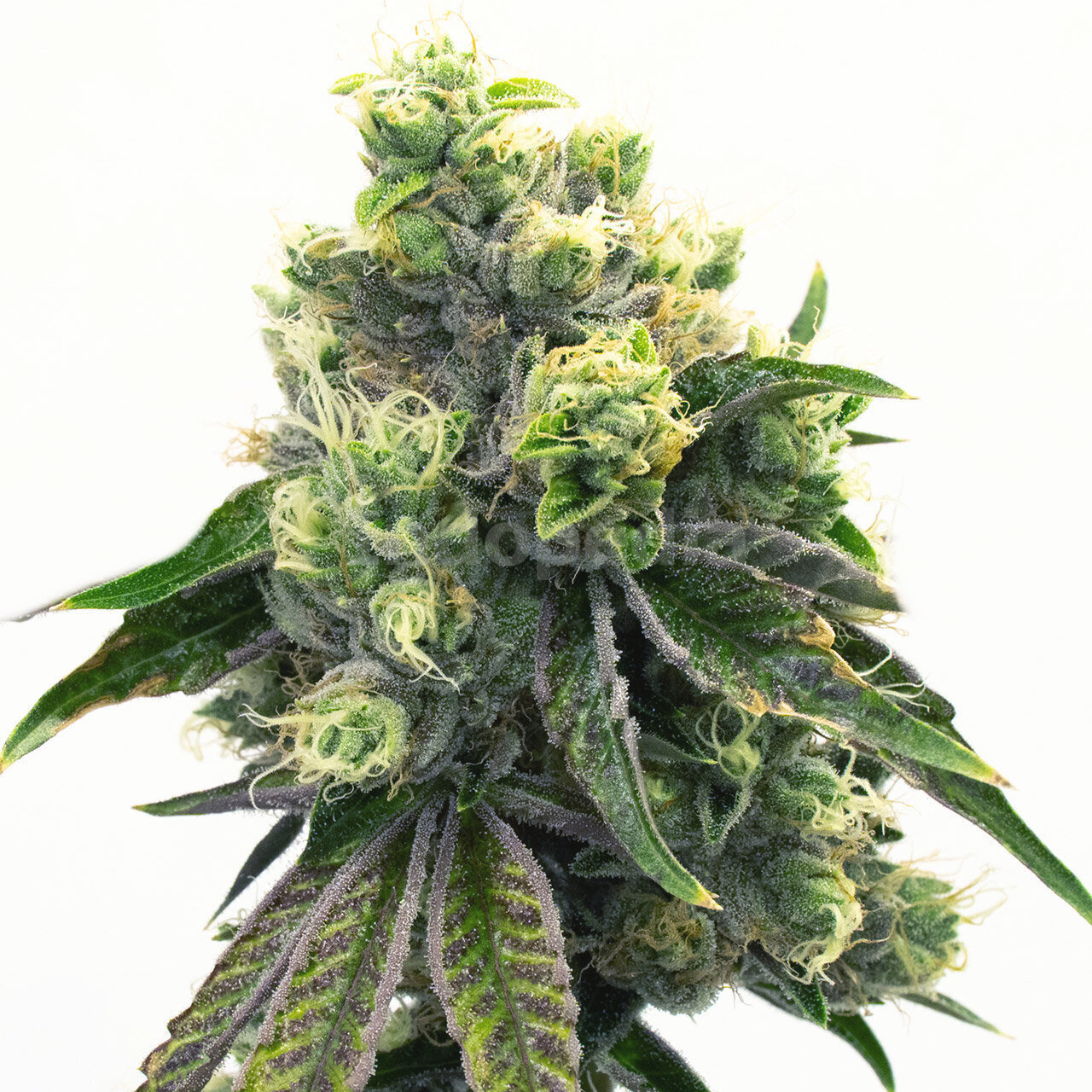 Price Per Seed:
$
9.38
Introduction to Purple Urkle Feminized Cannabis Seeds
Looking to purchase a top-quality strain that delivers legendary genetics, soothing effects, and stunning, aromatic buds? Look no further than Purple Urkle feminized marijuana seeds. This beauty of a plant will blow you away with its euphoric and sedative effects. Cannabis connoisseurs have been familiar with Purple Urkle since the 80s, and now you can grow your own at a fraction of the cost. Impress your friends and fellow cultivators with this classic strain that offers a palette of colors and a grape soda-like flavor that will make your mouth water. Buy Purple Urkle feminized seeds now and get ready to experience one of the best purple weed strains on the market.
Fast US-Based Shipping
At Indopedia Seed Bank, we offer fast shipping to all fifty states in the USA. Our discreet packaging ensures that your order arrives safely and securely at your doorstep. Plus, we offer free shipping on orders over $99. Don't wait any longer - order your Purple Urkle feminized cannabis seeds today and start growing your own high-quality buds.
Key Characteristics of Purple Urkle
Indica dominant strain
10-14% THC content with <2% CBD
Creative, relaxed, and happy effects
Berry, grape, and earthy flavors
Abundant in the terpene Myrcene
Genetics and Origins of Purple Urkle
Purple Urkle is believed to be a phenotype of Mendocino Purps from the Emerald Triangle in Northern California. While its exact lineage remains a mystery, Purple Urkle feminized cannabis seeds are known for their stable genetics, making them a trailblazer in the feminized seeds category. The plant's short, bushy stature and sedative effects are typical of an indica dominant strain.
Feminized Seed Advantages
Feminized marijuana seeds, like Purple Urkle feminized, ensure that you grow female plants that produce succulent buds. This is ideal for those looking to maximize their yield and avoid the hassle of dealing with male plants. Buds harvested from Purple Urkle feminized plants are coated in a thick blanket of trichomes, making them perfect for hash and concentrates.
Benefits of Photoperiod Seeds
Photoperiod seeds require a 12/12 light schedule during flowering to trigger bud production. This makes them ideal for indoor growers who can control the light cycle. Outdoor growers can also benefit from photoperiod seeds by timing their planting to take advantage of the natural light cycle.
Purple Urkle Seeds Germination Guide
Gather the necessary materials: two plates, paper towels, and tap water.
Moisten two paper towels without soaking them and place one on the first plate.
Gently place your Purple Urkle feminized seeds about an inch apart on the damp paper towel.
Cover the seeds with the remaining paper towel and place the second plate on top to create a dome-like shape.
Keep the plates in a warm and dark place, such as a drawer.
Check on the paper towels every 12 hours to ensure they remain damp.
After 1-5 days, the seeds should sprout with healthy white taproots.
How to Cultivate Purple Urkle
Cultivating Purple Urkle feminized plants requires experience, patience, and skill. These plants are known for being slightly difficult to manage, so we recommend that intermediate and expert cultivators take on the challenge. To achieve optimal growth, it may be necessary to invest in additional equipment such as heaters, dehumidifiers, or humidifiers.
For best results, maintain a warm environment with low humidity during flowering to prevent bud rot. Indoor growers can implement techniques like the Sea of Green (SOG) or Screen of Green (ScrOG) to maximize yield and promote even bud development.
Purple Urkle Growing Difficulty
Purple Urkle marijuana plants are considered intermediate in terms of difficulty level. They require careful attention to environmental conditions and nutrient management. However, with the right knowledge and skills, you can successfully grow this strain and reap its rewards.
Flowering Time of Purple Urkle
The flowering time of Purple Urkle grown from feminized seeds is approximately 8 weeks. Indoor growers can control the light cycle to transition from vegetative growth to flowering. Outdoor growers can expect to harvest their Purple Urkle plants in the second to third week of October in the Northern Hemisphere.
Average Height of Purple Urkle
Purple Urkle marijuana plants have a moderate height of 3-4 feet, making them suitable for both indoor and outdoor cultivation. Indoor growers can utilize high-stress training techniques to manage the plant's height and promote lateral growth.
Purple Urkle Crop Yield
Feminized Purple Urkle cannabis seeds have the potential to produce impressive yields. Indoor growers can expect to harvest 12-16 oz./m2, while outdoor growers can yield 14-21 oz. per plant. To maximize your yield, consider implementing techniques such as Sea of Green (SOG) or Screen of Green (ScrOG).
Quality of Purple Urkle Buds
Purple Urkle buds are truly a sight to behold. These dense, rocky nuggets are adorned with long rusty-orange pistils and purple hues on a backdrop of forest green. The flowers are coated in glistening crystals, giving them an eye-popping bag appeal. When properly cured, Purple Urkle buds emit an intense aroma reminiscent of grape soda and earthy tones.
Dominant Terpenes in Purple Urkle
Terpenes are aromatic compounds found in cannabis that contribute to its flavor and effects. Purple Urkle is dominated by the terpene myrcene, which is known for its relaxing properties. This terpene gives Purple Urkle its distinct aroma and flavor profile.
Smell and Taste of Purple Urkle
Purple Urkle weed is a feast for the senses with its captivating aroma and delicious flavor. The scent of Purple Urkle buds can be described as sweet, fruity, and earthy, with hints of grape and berry. The taste is just as delightful, with a punchy berry and grape zest accompanied by notes of incense and spice. The lingering sweet aftertaste makes it the perfect strain to indulge in as you unwind and relax.
The Effects of Purple Urkle
Purple Urkle marijuana delivers a blissful and uplifting buzz that brings about a sense of joy and relaxation. The moderate THC content provides pleasurable effects without overwhelming the user. It is known for its sedative properties, making it an excellent choice for those looking to unwind after a long day or seeking relief from pain and sleep disorders.
Medical Uses for Purple Urkle
Purple Urkle cannabis has a range of therapeutic effects that make it suitable for medical use. It can help alleviate chronic pain, arthritis, anxiety, depression, and sleep disorders. Its ability to offset the munchies can also aid those struggling with appetite loss. As with any medical treatment, it is important to seek professional advice before using Purple Urkle.
Buy Purple Urkle Cannabis Seeds Now in the USA
Indopedia Seed Bank is your go-to source for high-quality Purple Urkle feminized cannabis seeds in the USA. With our fast shipping, discreet packaging, and top-notch customer service, you can trust that your order will arrive promptly and securely. Don't miss out on the chance to grow your own Purple Urkle plants and experience the incredible flavors, aromas, and effects that this strain has to offer. Order your feminized Purple Urkle seeds today and start your cannabis cultivation journey with us.
Customer Reviews
High-quality seeds, great strain, beautiful purple buds! Excellent customer service as well. 5 stars without a doubt.
Christopher

Verified Buyer
Unbelievably good strain, so purple and flavorful! These plants were a breeze to grow. If you're into dank indica strains, give this one a try!
Best purchase ever! These seeds sprouted like champions and produced an abundance of sticky icky goodness. Highly recommend!
Strain Data Table
| Attribute | Data |
| --- | --- |
| CBD Content | 0.6 percent |
| Climate Zones | Continental, Mediterranean, Sunny, Temperate |
| Difficulty | Beginner |
| Dominant Terpenes | Humulene |
| Effects | Creative, Euphoric, Focused, Happy, Uplifted |
| Flavors | Berry, Earthy, Grape |
| Flowering Time | 8–10 weeks |
| Flowering Type | Photoperiod |
| Genetics | Mendocino Purps |
| Grows Best | Greenhouse, Indoor, Outdoor |
| Harvest Month | October |
| Indica / Sativa | Mostly Indica |
| Indoor Plant Height | 14–19 inches |
| Indoor Yield | 11 oz/m2 |
| Moods | Focus, Relaxed, Uplift |
| Outdoor Plant Height | 14–19 inches |
| Outdoor Yield | 14 oz/plant |
| Seed Sex | Feminized |
| Symptoms | Anxiety, Arthritis, Depression, Insomnia, Migranes, Stress |
| THC Content | 22 percent |