Purple Punch Feminized Cannabis Seeds
Invest in the unique Purple Punch Feminized Cannabis Seeds online in the USA. These choice cannabis seeds are in store and quickly shipped to all territories within the country.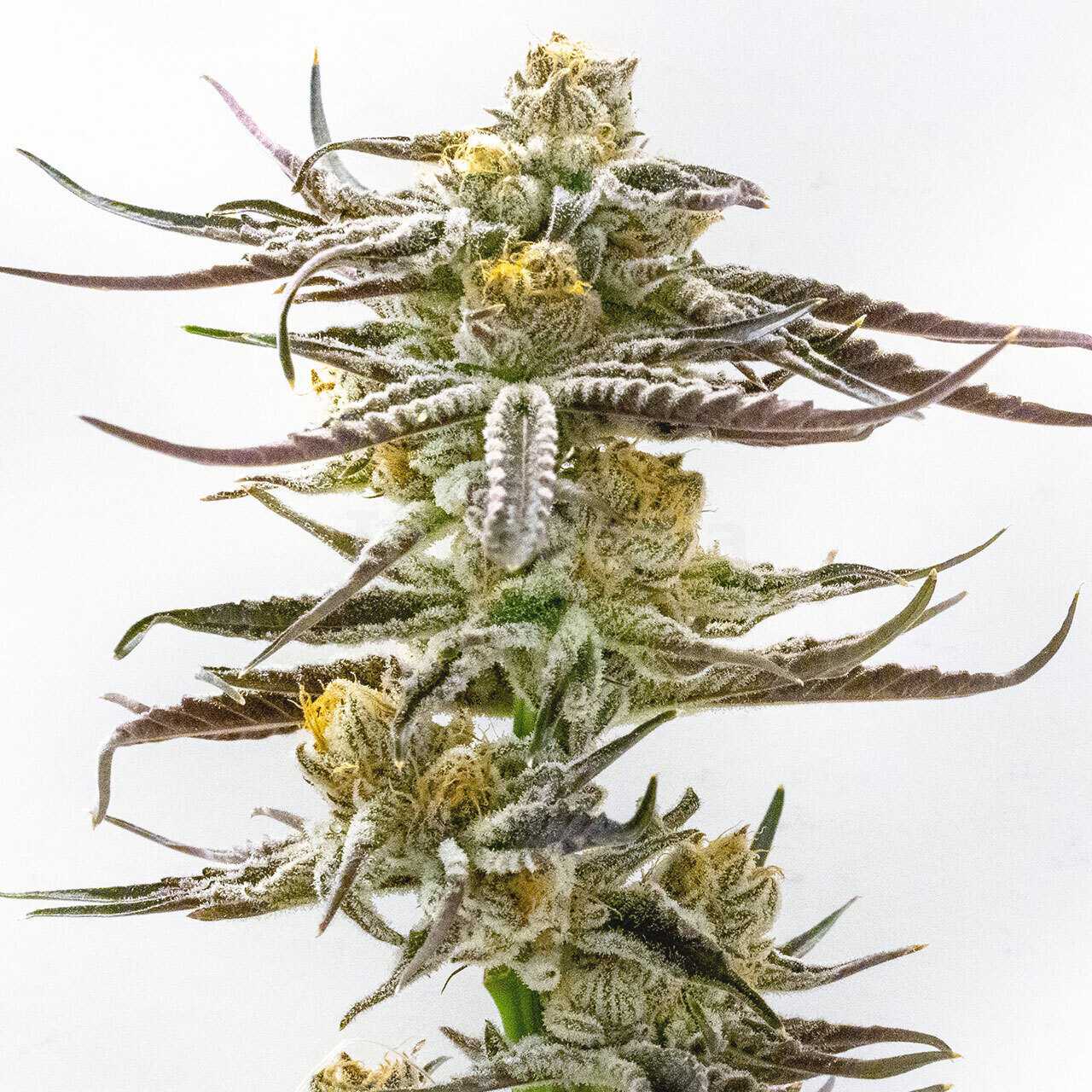 Price Per Seed:
$
9.38
Introduction to Purple Punch Feminized Cannabis Seeds
If you're in search of the perfect cannabis strain that combines stunning visuals, incredible flavors, and a potent high, look no further than Purple Punch feminized cannabis seeds. These enchanting seeds are known for making dreams come true with their sweet taste, high yields, and resinous buds. And now, you have the opportunity to join their massive fanbase and experience all the qualities of your dreams in one gorgeous strain of ganja.
When you buy Purple Punch feminized seeds from Indopedia, you can trust that you're getting the best. So don't wait any longer – purchase Purple Punch feminized seeds today and start cultivating this beauty in your at-home weed garden.
Fast US-Based Shipping
At Indopedia, we understand the importance of getting your seeds as quickly as possible. That's why we offer fast US-based shipping to all fifty states. No matter where you are in the country, your order will be delivered right to your doorstep in a timely manner. We also take pride in our discreet packaging, ensuring that your privacy is protected throughout the shipping process. Plus, we offer free shipping on orders over $99, so you can save even more when you purchase Purple Punch feminized marijuana seeds from Indopedia.
Key Characteristics of Purple Punch
Indica-dominant hybrid
Intensely sedating body high
Gorgeous purple pigmentation
Complex blend of grape and berry scents
High-yielding and resinous
Genetics and Origins of Purple Punch
Purple Punch is a cross between two highly regarded cultivars – Granddaddy Purple (GDP) and Larry OG. This indica-dominant hybrid combines the best traits of both parents to create a truly exceptional strain. The purple pigmentation and sedating effects come from GDP, while the delectable flavors and happy high are influenced by Larry OG. The result is a strain that is loved by sweet tooth stoners, old-school cannabis enthusiasts, and medical marijuana users alike.
Feminized Seed Advantages
When you choose feminized seeds, you eliminate the risk of pollination and ensure that all your plants will produce only female flowers. This is especially beneficial for growers who want to maximize their yields and avoid the hassle of separating males from females. With feminized Purple Punch seeds, you can focus on cultivating top-quality buds without any interruptions.
Benefits of Photoperiod Seeds
Photoperiod seeds, like Purple Punch feminized, are ideal for both indoor and outdoor growers. These seeds require specific light cycles to transition from the vegetative stage to the flowering stage. Indoor growers have full control over the light cycle, allowing them to manipulate the plant's growth and maximize yields. Outdoor growers can take advantage of seasonal changes to trigger flowering naturally. Overall, photoperiod seeds give growers more flexibility and control over their cultivation process.
Purple Punch Seeds Germination Guide
Get your equipment ready, including bottled water, paper towels, a plate, clean tweezers, and your seed pack.
Moisten one paper towel without making it dripping wet.
Place the moist paper towel on a plate, ensuring there are no pools of water.
Carefully pick up a Purple Punch feminized seed with tweezers and place it on the paper towel.
Repeat for each seed, leaving about an inch of space between each.
Cover the seeds with another moist paper towel.
Leave the plate in a warm and dark place, such as a cupboard or drawer.
Check the seeds after 24 hours and remove any that have sprouted using tweezers.
Moisten the paper towels again and leave the remaining seeds for another day or two, checking regularly for sprouted taproots.
How to Cultivate Purple Punch
Growing cannabis can be a rewarding experience, but it requires some knowledge and effort. Here are some general tips for cultivating Purple Punch:
Choose a grow medium that suits your preference, whether it's soil or hydroponics.
Provide your plants with proper lighting, temperature, humidity, and nutrients throughout their growth cycle.
Trim your plants regularly to promote airflow and prevent pest infestations.
Monitor your plants closely for signs of nutrient deficiencies or pest damage and take appropriate action.
During the flowering stage, be patient as your plants develop buds. This stage typically lasts eight to ten weeks indoors, while outdoor growers can expect to harvest in early October.
Purple Punch Growing Difficulty
Purple Punch feminized seeds are best suited for intermediate growers who have some experience cultivating cannabis. While they are not overly difficult to grow, they require attention to detail and proper plant care. Beginner growers can still achieve successful results with these seeds by educating themselves on cannabis cultivation and being diligent in their gardening practices.
Flowering Time of Purple Punch
Indoor growers can expect Purple Punch plants to flower for approximately eight to ten weeks. During this time, the plants will develop large, resinous buds that are ready for harvest. Outdoor growers can anticipate a harvest date in early October, depending on their specific climate and growing conditions. It's important to monitor your plants closely during the flowering stage to ensure optimal bud development and harvest at the right time.
Average Height of Purple Punch
The plants grown from Purple Punch feminized seeds typically reach a height of three to four feet, making them suitable for both indoor and outdoor cultivation. If you're growing indoors, it's important to manage the height of your plants by using techniques such as topping or training. Outdoor growers should consider planting in an area with enough vertical space or use pruning techniques to control the height of their plants.
Purple Punch Crop Yield
When properly cultivated, Purple Punch feminized seeds can produce high yields of top-quality buds. Indoor growers using the Sea of Green (SOG) technique can expect to harvest over 22 oz per square meter. Outdoor growers can achieve yields of around 28 oz per crop when planting in a sunny spot and providing proper care throughout the growing season. To maximize your crop yield, ensure your plants receive adequate light, nutrients, and water throughout their growth cycle.
Quality of Purple Punch Buds
Purple Punch buds are truly a sight to behold. With their gorgeous purple pigmentation, thick coating of resin, and enticing aroma, these buds are a treat for all senses. Each cola is heavy and sturdy, carrying the weight of its flowers. When dried and cured, Purple Punch buds have a smooth vanilla base with hints of grape, citrus, and exotic spices. Smokers love the dessert-like aroma and the unique flavors that make these buds stand out from the crowd.
Dominant Terpenes in Purple Punch
Terpenes are aromatic compounds found in cannabis that contribute to its unique smell and taste. Purple Punch cannabis is known for its complex blend of terpenes, including:
Myrcene: Known for its relaxing and sedating effects.
Caryophyllene: Provides anti-inflammatory and analgesic properties.
Limonene: Delivers uplifting and mood-enhancing effects.
Smell and Taste of Purple Punch
The aroma of Purple Punch is truly enchanting. The flowers emit scents of blueberries, citrus, vanilla, and herbs. When smoked, Purple Punch fills the room with smells of freshly baked blueberry muffins and a hint of zesty grape. The rich base of earthy vanilla coats the tongue, while the top notes explode into a juicy and flavorful experience. Smoking Purple Punch is like indulging in a delicious dessert that tastes nothing like traditional cannabis.
The Effects of Purple Punch
Purple Punch marijuana packs quite a punch when it comes to its psychoactive effects. The high THC content ensures an avalanche of mind-and-body effects that never miss the mark. When consumed in moderation, Purple Punch delivers a jolt of euphoria paired with tranquility. It stimulates creativity while also providing deep relaxation throughout the body. This strain is perfect for late afternoons and evenings when you want to unwind and enjoy a gentle yet potent high.
Medical Uses for Purple Punch
Purple Punch cannabis buds are highly regarded in the medical marijuana community for their therapeutic benefits. Despite their low CBD content, the potent effects and indica dominance make them effective in managing various physical and mental health conditions. Purple Punch can provide relief from chronic pain, muscle spasms, headaches, migraines, and even reduce swelling. It also has mood-enhancing properties that combat depression, PTSD, and anxiety. Additionally, the sedating effects of Purple Punch can help with insomnia and promote restful sleep.
Buy Purple Punch Cannabis Seeds Now in the USA
If you're ready to experience the joy and benefits of Purple Punch cannabis seeds, Indopedia is the best place to buy. Our top-quality seeds are available for purchase online in the USA. With our fast US-based shipping, discreet packaging, and excellent customer support, we ensure a smooth and enjoyable shopping experience. Don't miss out on this incredible strain – order your Purple Punch feminized seeds today and start growing your own supply of this stunning and potent marijuana variety.
Customer Reviews
I've been growing cannabis for years and these are some of the best seeds I've used. The genetics are solid and the strain is a champ.
The yield was much better than I expected. It has a fruity aroma, very pleasant. And the awesome purple colors were the icing on the cake. Smoking it was just as satisfying. Will definitely repurchase.
Holy smokes! These seeds are like magic beans. My garden is now a cannabis wonderland thanks to these fire genetics.
Strain Data Table
| Attribute | Data |
| --- | --- |
| CBD Content | 0.7 percent |
| Climate Zones | Continental, Mediterranean, Sunny, Temperate |
| Difficulty | Intermediate |
| Dominant Terpenes | Limonene |
| Effects | Creative, Euphoric, Happy, Relaxed |
| Flavors | Berry, Citrus, Earthy, Grape, Pineapple |
| Flowering Time | 6–8 weeks |
| Flowering Type | Photoperiod |
| Genetics | Larry OG x Granddaddy Purple |
| Grows Best | Greenhouse, Indoor, Outdoor |
| Harvest Month | September |
| Indica / Sativa | Mostly Indica |
| Indoor Plant Height | 14–23 inches |
| Indoor Yield | 16–19 oz/m2 |
| Moods | Efficient, Relaxed |
| Outdoor Plant Height | 14–23 inches |
| Outdoor Yield | 18–21 oz/plant |
| Seed Sex | Feminized |
| Symptoms | Anxiety, Arthritis, Depression, Fatigue, Insomnia, Migranes, Muscle Spasms, Stress |
| THC Content | 23 percent |