Purple Kush Feminized Cannabis Seeds
Get the outstanding Purple Kush Feminized Cannabis Seeds online in the USA. These high-grade cannabis seeds are in stock and promptly dispatched to all corners across the nation.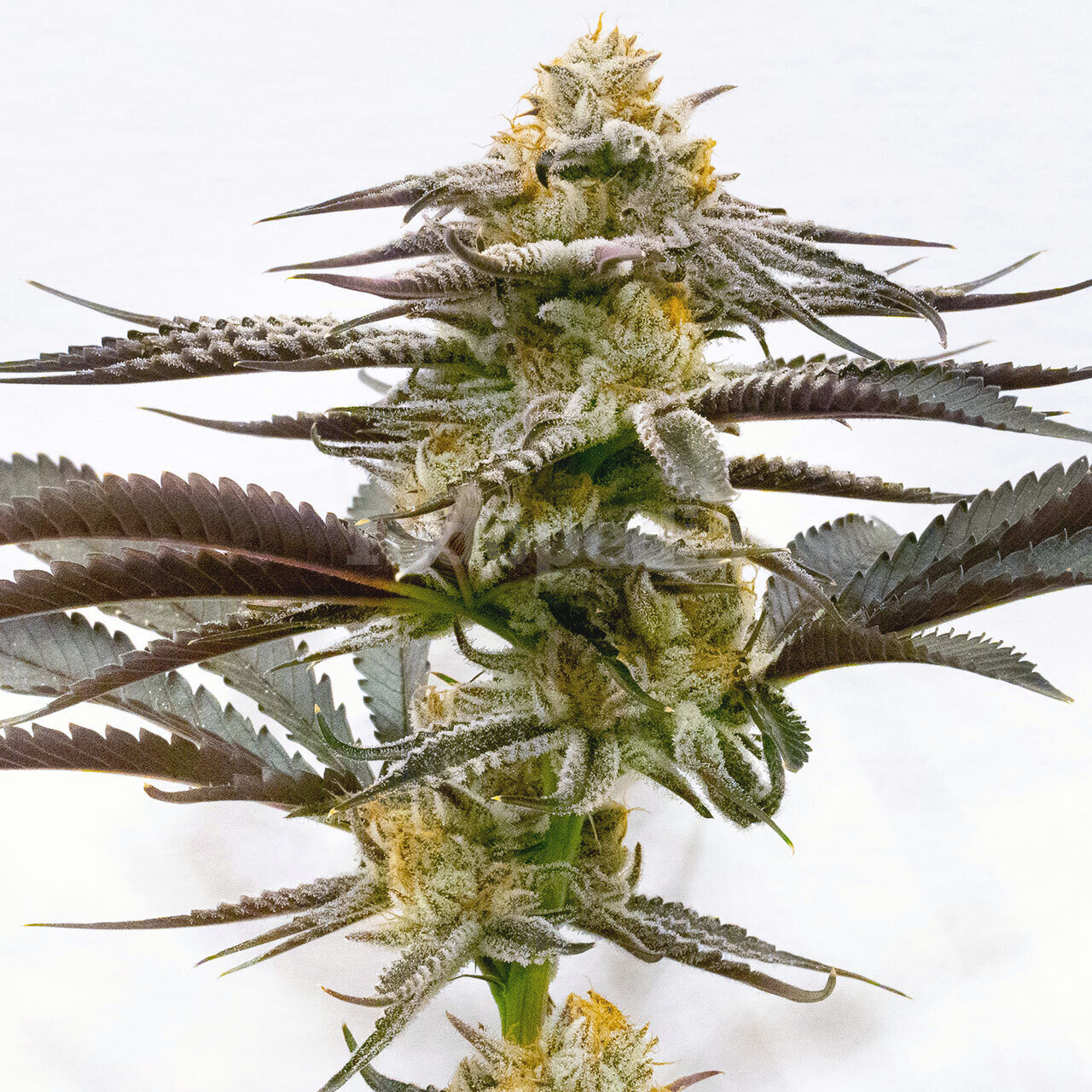 Price Per Seed:
$
9.38
Introduction to Purple Kush Feminized Cannabis Seeds
Are you looking to buy high-quality Purple Kush feminized cannabis seeds online in the USA? Look no further! Indopedia seed bank is your go-to destination for purchasing top-notch marijuana seeds. With fast US-based shipping and a wide selection of strains for sale, we make it easy for you to get your hands on the best cannabis genetics with just a few clicks. Don't miss out on this opportunity to grow your own gorgeous Purple Kush plants and experience the limb-locking effects and delectable flavors that this legendary strain has to offer.
Fast US-Based Shipping
When you purchase Purple Kush feminized seeds from Indopedia, you can expect fast and reliable shipping to all fifty states. We understand the importance of discreet packaging, so rest assured that your order will be delivered in a secure and unmarked package. Plus, we offer free shipping on orders over $99, making it even more convenient for you to stock up on your favorite strains. Say goodbye to long waiting times and customs hassles – choose Indopedia for all your weed seed needs.
Key Characteristics of Purple Kush
Pure indica cultivar
THC levels ranging from 17-27%
CBD levels below 2%
Light cerebral buzz paired with a strong indica kick
Happy, relaxed, sleepy, and hungry effects
Fruity, earthy, and occasionally spicy aroma
Sweet berry flavors with a subtle sandalwood aftertaste
Genetics and Origins of Purple Kush
Purple Kush feminized seeds are the result of crossing Hindu Kush and Purple Afghani. These legendary parent strains contribute to the highly sought-after traits of Purple Kush. The pure indica genetics are responsible for its relaxing effects and delectable flavors that have made it a favorite among cannabis enthusiasts worldwide.
Feminized Seed Advantages
Feminized Purple Kush marijuana seeds guarantee a 99% chance of female-only plants. This eliminates the need to search for and remove male plants, ensuring that you can focus on producing healthy, thriving crops. Female plants are the ones that produce the resinous buds that we all love, making feminized seeds the ideal choice for growers who want to maximize their yield and potency.
Benefits of Photoperiod Seeds
Photoperiod seeds, like Purple Kush feminized, are a great option for both indoor and outdoor growers. These seeds require specific light cycles to transition from the vegetative stage to the flowering stage. Indoor growers have full control over their lighting schedule, allowing them to manipulate the plant's growth cycle. Outdoor growers can take advantage of the natural sunlight during the growing season to ensure optimal plant development.
Purple Kush Seeds Germination Guide
Wet two paper towels and place one on a dinner plate.
Use tweezers to place your Purple Kush feminized seeds on the plate.
Cover the seeds with the other wet paper towel.
Keep the plate in a warm, dark spot and check regularly for moisture.
Once taproots appear, your seeds are ready to be planted.
How to Cultivate Purple Kush
Growing Purple Kush feminized marijuana seeds requires some extra care, but the effort is well worth it. These short and bushy plants thrive in both indoor and outdoor environments. If growing indoors, consider using a hydroponic setup for faster growth and increased yields. For outdoor cultivation, make sure to choose a warm, dry, and sunny location.
Purple Kush Growing Difficulty
Feminized Purple Kush cannabis seeds are moderately easy to grow, but beginners may encounter challenges due to their demanding needs. Experience breeders will have no problem producing top-quality, high-yielding plants. Proper maintenance, including trimming and pruning, is essential to ensure proper airflow and prevent mold or mildew issues.
Flowering Time of Purple Kush
Purple Kush marijuana plants have a total flowering time of approximately eight weeks. During the final two to three weeks, the buds experience the most significant development. Indoor growers can expect a yield of around 17 oz/m² after the flowering period. Outdoor growers can harvest up to 28 oz per plant by the end of September in the Northern Hemisphere.
Average Height of Purple Kush
The plants grown from feminized Purple Kush seeds grow to a maximum height of around three feet. This compact size makes them suitable for indoor cultivation, especially for growers with limited vertical space. The Screen of Green technique can also be used to promote horizontal growth and increase yields.
Purple Kush Crop Yield
When grown indoors, Purple Kush feminized seeds can yield approximately 17 oz/m² after eight weeks of flowering. Outdoor growers can expect a harvest of up to 28 oz per plant by the end of September. To maximize your yield, ensure your plants receive sufficient light, nutrients, and proper care throughout their growth cycle.
Quality of Purple Kush Buds
Purple Kush buds are known for their exceptional quality. The emerald and violet foliage, along with bright orange pistils, make for a visually stunning display. When matured, these buds are covered in sticky resin and emit a sweet, fruity, and earthy aroma. The taste is reminiscent of sweet berries with subtle hints of sandalwood.
Dominant Terpenes in Purple Kush
Terpenes are responsible for the unique fragrance of each cannabis strain. Purple Kush weed contains a variety of terpenes that contribute to its distinct scent. Some of the dominant terpenes found in Purple Kush include Alpha Cedrene, Alpha Pinene, Beta-Caryophyllene, Borneol, Cadinene, Camphene, Citral, Eugenol, Farnesene, Fenchol, Humulene, Myrcene, and Ocimene.
Smell and Taste of Purple Kush
Purple Kush marijuana boasts a sweet, fruity, and earthy aroma. When you take a whiff of these buds, you'll notice notes of sweet grapes combined with subtle earthy undertones. More experienced users might also detect a spicy scent. When smoked, Purple Kush cannabis delivers delicious flavors of sweet berries and leaves a soft sandalwood aftertaste.
The Effects of Purple Kush
Purple Kush feminized seeds develop 100% indica plants that deliver powerful physical effects and intense cerebral sensations due to their high THC content. This strain provides a subtle mental high that lifts your spirits and erases negativity. The physical effects are deeply relaxing and soothing, making it an excellent choice for post-work relaxation or a good night's rest.
Medical Uses for Purple Kush
In addition to its recreational uses, Purple Kush cannabis offers several potential medical benefits. Its indica genetics make it an effective stress-reliever, providing instant relaxation for both the mind and body. This strain is also known for its pain-relieving properties and can help alleviate migraines, arthritis, chronic pain, and fibromyalgia symptoms. It can also stimulate appetite and ease nausea. Additionally, Purple Kush may provide relief for those dealing with depression, anxiety, PTSD, bipolar disorder as well as insomnia.
Buy Purple Kush Cannabis Seeds Now in the USA
Ready to buy Purple Kush feminized cannabis seeds online? Indopedia seed bank has you covered. With our fast US-based shipping, you'll have your seeds in no time. Don't miss out on the opportunity to grow your own top-quality Purple Kush plants and experience the amazing effects and flavors this strain has to offer. Place your order now and start your journey towards a beautiful, bountiful harvest.
Customer Reviews
High germination rate, resilient plants, and great harvest. Can't ask for more. Will definitely buy again.
Beautiful purple buds! The scent of this strain is unlike anything else. Top notch genetics.
Just harvested my first crop, and I'm blown away! The buds are frosty, sticky, and pack a punch. I can't wait to share with friends.
Strain Data Table
| Attribute | Data |
| --- | --- |
| CBD Content | 0.6 percent |
| Climate Zones | Continental, Mediterranean, Sunny, Temperate |
| Difficulty | Intermediate |
| Dominant Terpenes | Caryophyllene |
| Effects | Euphoric, Relaxed, Sedative, Sleepy, Uplifted |
| Flavors | Berry, Earthy, Grape, Spicy, Sweet, Tropical |
| Flowering Time | 6–8 weeks |
| Flowering Type | Photoperiod |
| Genetics | Hindu Kush x Purple Afghani |
| Grows Best | Greenhouse, Indoor, Outdoor |
| Harvest Month | September |
| Indica / Sativa | Mostly Indica |
| Indoor Plant Height | 14 inches |
| Indoor Yield | 14–18 oz/m2 |
| Moods | Relaxed, Uplift |
| Outdoor Plant Height | 14 inches |
| Outdoor Yield | 21 oz/plant |
| Seed Sex | Feminized |
| Symptoms | Arthritis, Migranes |
| THC Content | 19 percent |