Kush XL Autoflower Cannabis Seeds
Invest in the prime Kush XL Autoflower Cannabis Seeds online in the USA. These top-tier cannabis seeds are available for fast shipping to all territories within the country.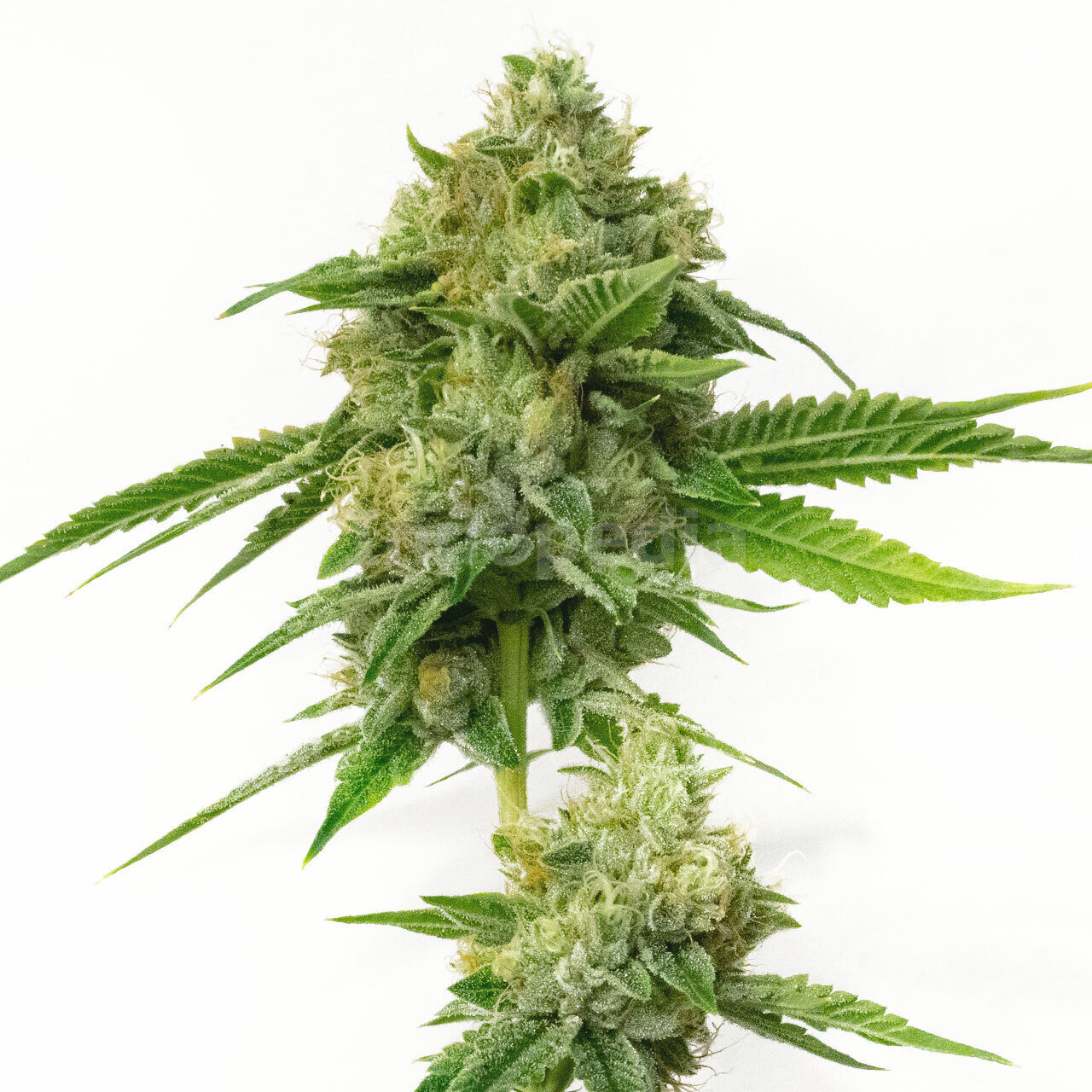 Price Per Seed:
$
9.25
Categories: Autoflower, Hybrid
Introduction to Kush XL Autoflower Cannabis Seeds
Experience the legendary Kush strain in its auto form with Kush XL Autoflower cannabis seeds. These top-shelf seeds are highly sought-after for their dense nugs coated in aromatic crystals, providing a classic and ancient landrace strain experience. Instead of buying Kush weed at a dispensary, why not buy these autoflower seeds online? They are one of the easiest strains to grow, as they are highly resistant to mold, pests, and diseases. Whether you're a beginner or an experienced grower, you'll have no trouble cultivating these plants and reaping the rewards.
Fast US-Based Shipping
When you purchase Kush XL Autoflower cannabis seeds from our American seed bank, you can expect fast and reliable shipping to all fifty states. We understand the importance of discreet packaging, so your order will arrive in plain packaging without any mention of its contents. Plus, we offer free shipping on orders over $99, ensuring that you receive your seeds without any extra costs.
Key Characteristics of Kush XL Autoflower
Indica-dominant strain
THC content ranging from 14-17%
Dense nugs coated in aromatic crystals
Fast-growing cycle of 7-8 weeks
Potent indica-like buzz
Highly resistant to mold, pests, and diseases
Genetics and Origins of Kush XL Autoflower
Kush XL Autoflower is a cross between Hindu Kush and OG Kush. Hindu Kush, a pure indica strain, originates from the Hindu Kush mountains. OG Kush, hailing from California, adds to the potency of Kush XL. These two strains combine to create a unique and highly desirable autoflowering variant that captures the essence of Kush.
Feminized Seed Advantages
When you choose feminized seeds like Kush XL Autoflower, you can be confident that over 99% of your plants will be female. Female plants are desired for their bud production, while male plants are typically used for breeding purposes. With feminized seeds, you can maximize your yields and ensure a successful harvest every time.
Benefits of Autoflowering Seeds
Autoflowering seeds have several advantages for both indoor and outdoor growers. These seeds automatically switch from the vegetative stage to the flowering stage without relying on specific light cycles. This means that you can grow Kush XL Autoflower all year round, regardless of the season or available sunlight. Additionally, autoflowering plants tend to have shorter flowering times, allowing for faster harvests.
Kush XL Autoflower Seeds Germination Guide
Obtain your Kush XL Autoflower seeds, paper towels, two clean dinner plates, and water.
Wet two paper towels and place one on a plate.
Space your Kush XL Autoflower seeds about an inch apart on the paper towel.
Cover the seeds with the remaining paper towel.
Place the second plate on top to create a dome-like shape for high humidity.
Store the plates in a warm and dry area, such as a drawer or kitchen cabinet.
Check on the paper towels every 12 hours to ensure they are moist.
Within 1-5 days, your Kush XL Autoflower seeds will sprout and develop a taproot about an inch long.
How to Cultivate Kush XL Autoflower
Kush XL Autoflower cannabis plants are relatively easy to grow, making them suitable for beginners and experienced growers alike. These plants are highly resistant to mold, pests, and diseases, ensuring a successful harvest. To maximize yields, consider using low-stress training techniques such as lollipopping to encourage lateral growth. Additionally, provide sufficient lighting (up to 24 hours of high-intensity light) and proper ventilation for optimal growth.
Kush XL Autoflower Growing Difficulty
With its resistance to common issues faced by cannabis plants, Kush XL Autoflower is considered a strain with medium difficulty. While it is relatively easy to cultivate, it still requires proper care and attention to thrive. By following the recommended growing techniques and providing the necessary environmental conditions, you can achieve great results with this strain.
Flowering Time of Kush XL Autoflower
Kush XL Autoflower has a flowering time of approximately 7-8 weeks from the onset of flowering. This short flowering period allows for faster harvests compared to other strains. Whether you're growing indoors or outdoors, you can expect to enjoy the fruits of your labor in just a few weeks. For outdoor growers, the ideal time to harvest is when about 20-30% of the trichomes turn amber.
Average Height of Kush XL Autoflower
The plants grown from Kush XL Autoflower seeds typically reach a height of 0.6-2 feet, making them ideal for cultivation in confined spaces. Whether you have a small grow tent or limited outdoor space, these compact plants are perfect for discreet growing. You can also manage the plant's height through techniques such as low-stress training to promote lateral growth and improve yields.
Kush XL Autoflower Crop Yield
Indoor growers can expect to harvest approximately 11-14 ounces per square meter of Kush XL Autoflower plants. Outdoor yields can range from 7-11 ounces per plant. To maximize your crop yield, consider implementing techniques such as the Sea of Green (SOG) method, which involves growing multiple plants in a small space to increase overall productivity.
Quality of Kush XL Autoflower Buds
Kush XL Autoflower develops buds covered in an incredibly heavy resin coating, making them ideal for hash and concentrates. The flowers emit a complex mix of deep fuel and skunky aromas that will tantalize your senses. With its dense nugs and aromatic crystals, Kush XL Autoflower provides a top-quality smoking experience.
Dominant Terpenes in Kush XL Autoflower
Terpenes are aromatic compounds found in cannabis that contribute to its unique smell and taste. In Kush XL Autoflower, you can expect dominant terpenes such as myrcene, caryophyllene, and limonene. These terpenes add to the complex flavor profile of this strain, enhancing the overall smoking experience.
Smell and Taste of Kush XL Autoflower
Kush strains are known for their distinct skunky scent, and Kush XL Autoflower is no exception. Light up this strain, and you'll be greeted with a fragrant floral scent that spreads throughout the room. The smoke has an earthy and piney flavor with hints of spice and citrus, creating a mouthwatering experience that will keep you coming back for more.
The Effects of Kush XL Autoflower
Kush XL Autoflower marijuana provides a long-lasting indica-like buzz that creeps in slowly but doesn't let go. It starts with a sense of euphoria, easing your mind and relieving stress. This strain is best enjoyed in the evenings or at night when you want to relax or feel sedated. Its effects can last for more than 3 hours, making it a great choice for unwinding after a long day.
Medical Uses for Kush XL Autoflower
Many users in the medical marijuana community believe that Kush XL Autoflower cannabis can help with various ailments. It may assist with appetite loss, stress, migraines, insomnia, muscle cramps, chronic pain, anxiety, and depression. The relaxing and body-numbing effects of this strain can provide relief and promote a sense of well-being.
Buy Kush XL Autoflower Cannabis Seeds Now in the USA
Ready to experience the potent effects and unique aroma of Kush XL Autoflower cannabis? Look no further! Our American seed bank offers the best selection of high-quality cannabis seeds for sale online. With fast shipping to all fifty states, discreet packaging, and competitive prices, you can order your Kush XL Autoflower seeds with confidence. Don't miss out on this classic strain in auto form – place your order today!
Customer Reviews
I've tried other seeds but nothing compares to these. They're very reliable and produce a potent, dank crop in little to no time at all.
Great autoflower strain! Grows quickly and gives a great yield for the short amount of time it takes to harvest.
Yo, these seeds are legit! Easy to grow, sturdy plants that produced the tastiest, frostiest nugs I've ever seen. I'm in love with these strains!
Strain Data Table
| Attribute | Data |
| --- | --- |
| CBD Content | 0.2 percent |
| Climate Zones | Continental, Mediterranean, Sunny, Temperate |
| Difficulty | Beginner |
| Dominant Terpenes | Alpha-Pinene |
| Effects | Creative, Euphoric, Giggly, Relaxed, Sleepy, Talkative |
| Flavors | Earthy, Pine, Sweet |
| Flowering Time | 8–10 weeks |
| Flowering Type | Autoflowering |
| Genetics | OG Kush x Ruderalis |
| Grows Best | Greenhouse, Indoor, Outdoor |
| Harvest Month | All Year |
| Indica / Sativa | Hybrid |
| Indoor Plant Height | 3–9 inches |
| Indoor Yield | 14 oz/m2 |
| Moods | Relaxed |
| Outdoor Plant Height | 3–9 inches |
| Outdoor Yield | 7–11 oz/plant |
| Seed Sex | Feminized |
| Symptoms | Anxiety, Arthritis, Depression, Insomnia, Migranes, Stress |
| THC Content | 17 percent |