CBD Kush Feminized Cannabis Seeds
Buy the unrivaled CBD Kush Feminized Cannabis Seeds for sale online in the USA. These high-ranking cannabis seeds are stocked and set for speedy dispatch to all states in the country.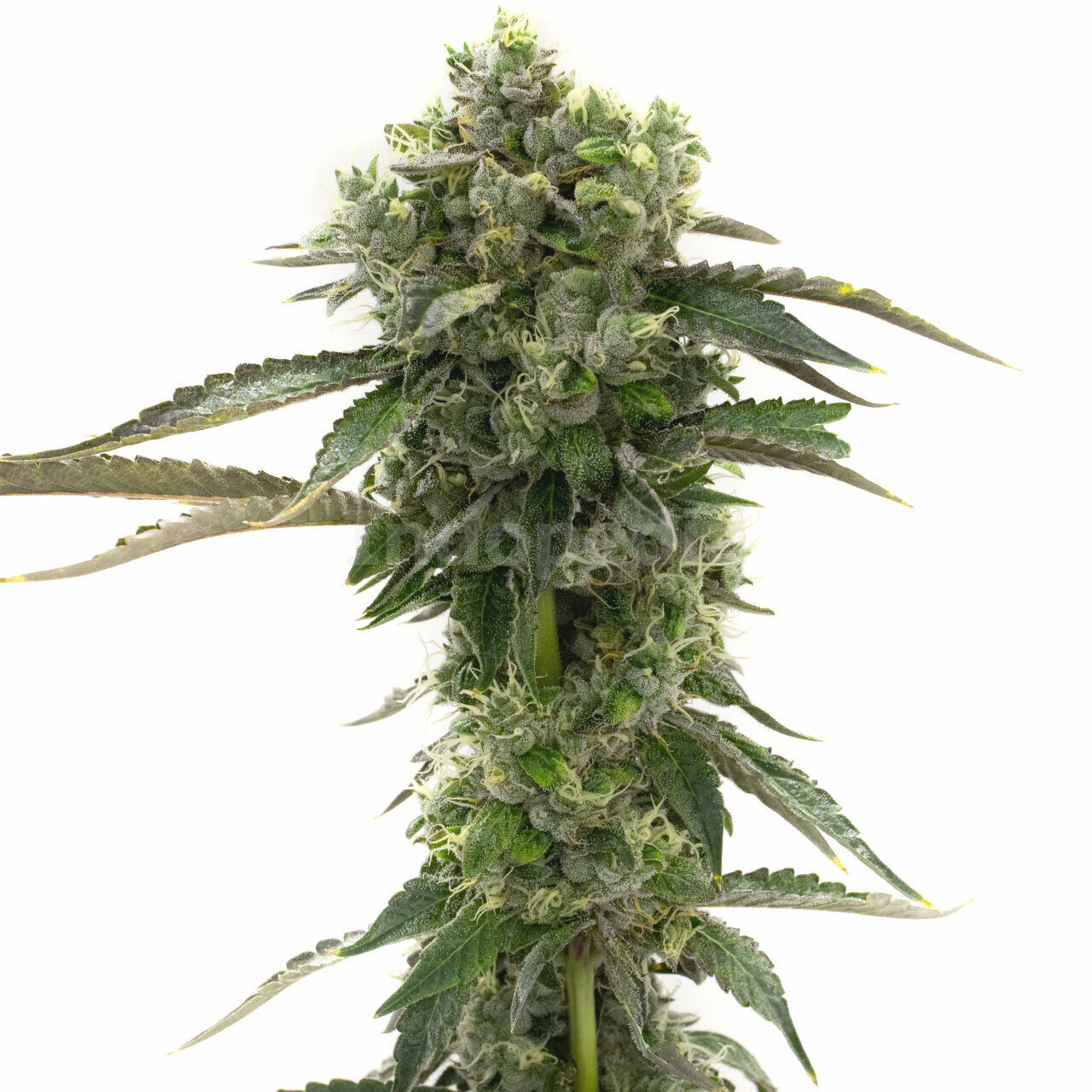 Price Per Seed:
$
10.29
Introduction to CBD Kush Feminized Cannabis Seeds
Are you in search of the perfect strain that offers both therapeutic benefits and a delightful high? Look no further than CBD Kush feminized cannabis seeds. This extraordinary strain combines equal parts THC and CBD, providing a well-balanced experience that caters to both medicinal and recreational users. With its reputation for soothing pain and anxiety, CBD Kush is highly sought after by consumers looking for relief and relaxation.
If you're new to smoking, CBD Kush is the ideal choice. Its bearable THC levels make it suitable for those with low tolerance, ensuring a comfortable and enjoyable experience. Plus, growing your own CBD Kush crop from these feminized seeds allows you to harness its benefits at a much lower cost than buying from dispensaries.
Fast US-Based Shipping
When you purchase CBD Kush feminized marijuana seeds from Indopedia, you can expect fast shipping to all fifty states in the USA. Our discreet packaging ensures your privacy, and we offer free shipping on orders over $99. With our reliable domestic shipping, you'll receive your seeds in no time, ready to start your own CBD Kush garden.
Key Characteristics of CBD Kush
Equal parts THC and CBD for a balanced experience
Soothing pain and anxiety
Mellow and relaxing euphoric high
Ideal for those with low smoking experience
Growth pattern, aroma, and flavor reminiscent of its mother cultivar, Kandy Kush
Genetics and Origins of CBD Kush
CBD Kush descends from the tasty medicinal cultivar Kandy Kush, which has been crossbred with an unnamed CBD-rich variant. Its genetics combine the classic OG Kush and the resinous Trainwreck, resulting in a highly regarded Indica-dominant hybrid. This impressive lineage not only contributes to CBD Kush's growth pattern but also enhances its therapeutic benefits and terpene profile.
Feminized Seed Advantages
When you choose CBD Kush feminized cannabis seeds, you're guaranteed almost 100% female plants. This eliminates the worry of accidental pollination, allowing your crop to focus on producing robust and resinous buds. With feminized seeds, you can maximize your harvest and make the most of CBD Kush's potential healing properties.
Benefits of Photoperiod Seeds
Photoperiod cannabis seeds, like CBD Kush feminized seeds, are perfect for both indoor and outdoor growers. These seeds require a specific light cycle to transition from the vegetative stage to the flowering stage. Indoor growers can control the light cycle, while outdoor growers can take advantage of seasonal growth. By understanding and manipulating the light cycle, you can optimize your CBD Kush plants' growth and resin production.
CBD Kush Seeds Germination Guide
Soak the CBD Kush feminized seeds in water for 12-24 hours.
Plant the seeds in a high-quality seedling mix or directly into well-draining soil.
Keep the soil moist but not soaked during germination.
Place the seeds in a warm and dark environment, such as a germination tray or covered propagator.
Within 3-7 days, you should see sprouts emerging from the soil.
Once the sprouts have developed their first set of true leaves, they are ready to be transplanted into larger pots or the final growing location.
How to Cultivate CBD Kush
Growing CBD Kush is a rewarding experience, but it does require some attention and care. Here are some general tips for cultivating this exceptional strain:
Provide suitable growing conditions, including proper lighting, temperature, and humidity.
Manicure the fan leaves to ensure light penetration and airflow.
Consider installing carbon filters to minimize the pungent smell of the buds.
Use the Sea of Green technique for a plentiful harvest.
CBD Kush Growing Difficulty
CBD Kush is a relatively easy strain to grow, making it suitable for growers of all skill levels. With its sturdy and low-profile structure, it reaches a height of just 3 to 4 feet, perfect for indoor cultivation. By managing the risk of contamination and disturbances in the environment, you can ensure a hassle-free growing experience with impressive results.
Flowering Time of CBD Kush
CBD Kush is known for its speedy flowering time. It takes only 7-9 weeks to bloom, allowing you to enjoy your harvest in no time. Whether you're growing indoors or outdoors, CBD Kush will delight you with its dense, neon green nugs adorned with vibrant amber pistils and a sticky coating of frosty trichomes.
Average Height of CBD Kush
With its low-profile structure, CBD Kush is perfect for indoor cultivation. Its height of just 3 to 4 feet makes it suitable for various spaces, including grow tents and small indoor gardens. If height management is a concern, techniques such as topping or LST (low-stress training) can help control the plant's growth and ensure a more compact structure.
CBD Kush Crop Yield
When grown in optimal conditions, CBD Kush produces impressive yields. Indoors, you can expect a harvest of 1.47 to 1.63 ounces per square foot. Outdoors, each plant can yield as much as 21 to 28 ounces by mid-October. To increase your crop yield, provide abundant sunlight and proper nutrients throughout the growing season.
Quality of CBD Kush Buds
The buds of CBD Kush are a sight to behold. With their dense and frosty appearance, they showcase the strain's exceptional quality. Expect vibrant neon green nugs with vivid amber pistils and a sticky coating of resinous trichomes. Breaking apart these buds releases a sweet and musty aroma reminiscent of pine, wood, and earth.
Dominant Terpenes in CBD Kush
Terpenes are responsible for the scent and flavor profiles of cannabis strains. In CBD Kush, you'll find a nuanced terpene profile inherited from its parent cultivar, Kandy Kush. These dominant terpenes contribute to the strain's unique fragrance and taste, enhancing the overall experience.
Smell and Taste of CBD Kush
Prepare your senses for an unforgettable experience with CBD Kush. When you break apart its buds, you'll be greeted with a sweet and musty aroma that carries hints of pine, wood, and earth. The taste is equally delightful, featuring a potpourri of citrusy exotic fruits, sweet freshly baked pastries, and a tang of diesel.
The Effects of CBD Kush
CBD Kush cannabis offers well-balanced effects thanks to its equal parts THC and CBD. The strain's CBD content provides high therapeutic potential while taming the effects of THC, resulting in a subtle and enjoyable high. Users often describe a relaxed, happy, and euphoric state of mind, enhancing their mood without overwhelming psychoactivity. CBD Kush's moderate body effect is soporific and profoundly relaxing, making it an excellent choice for those looking to unwind or enjoy a restful sleep.
Medical Uses for CBD Kush
With its potential healing properties, CBD Kush marijuana is highly regarded for its medicinal benefits. The strain offers analgesic properties to soothe pain and anti-anxiety effects for those seeking relief from stress and anxiety. It also holds promise as an anti-depressant, antiemetic, and anti-inflammatory. Whether you're dealing with chronic pain or seeking relaxation, CBD Kush may provide the relief you're looking for.
Buy CBD Kush Cannabis Seeds Now in the USA
Ready to experience the incredible benefits of CBD Kush for yourself? Indopedia is proud to offer CBD Kush feminized cannabis seeds for sale in the USA. With our fast US-based shipping, discreet packaging, and top-quality seeds, you can start your own CBD Kush garden with ease. Don't miss out on this extraordinary strain – order your CBD Kush feminized seeds today!
Customer Reviews
Excellent strain for indoor growing. The plants remained compact but the yield was plentiful. A must-try for any cannabis enthusiast.
These seeds are simply top-notch. Germination was quick and painless, plants were thriving, and the yield was insane. Would recommend to any grower out there!
Absolutely loving these genetics! The plants grew strong and healthy, and the aroma is simply intoxicating. A must-have for any cannabis enthusiast.
Strain Data Table
| Attribute | Data |
| --- | --- |
| CBD Content | 8 percent |
| Climate Zones | Continental, Mediterranean, Sunny, Temperate |
| Difficulty | Intermediate |
| Dominant Terpenes | Caryophyllene |
| Effects | Euphoric, Happy, Relaxed, Uplifted |
| Flavors | Earthy, Pine, Spicy, Sweet, Woody |
| Flowering Time | 8–10 weeks |
| Flowering Type | Photoperiod |
| Genetics | Kandy Kush x Unknown High-CBD strain |
| Grows Best | Greenhouse, Indoor, Outdoor |
| Harvest Month | October |
| Indica / Sativa | Mostly Indica |
| Indoor Plant Height | 14–19 inches |
| Indoor Yield | 16–18 oz/m2 |
| Moods | Relaxed, Uplift |
| Outdoor Plant Height | 14–19 inches |
| Outdoor Yield | 21–28 oz/plant |
| Seed Sex | Feminized |
| Symptoms | Anxiety, Arthritis, Depression, Migranes, Muscle Spasms, Stress |
| THC Content | 8 percent |