Blue Cookies Feminized Cannabis Seeds
Get the premium Blue Cookies Feminized Cannabis Seeds for sale online in the USA. These exceptional marijuana seeds are set for immediate delivery to every corner of the country.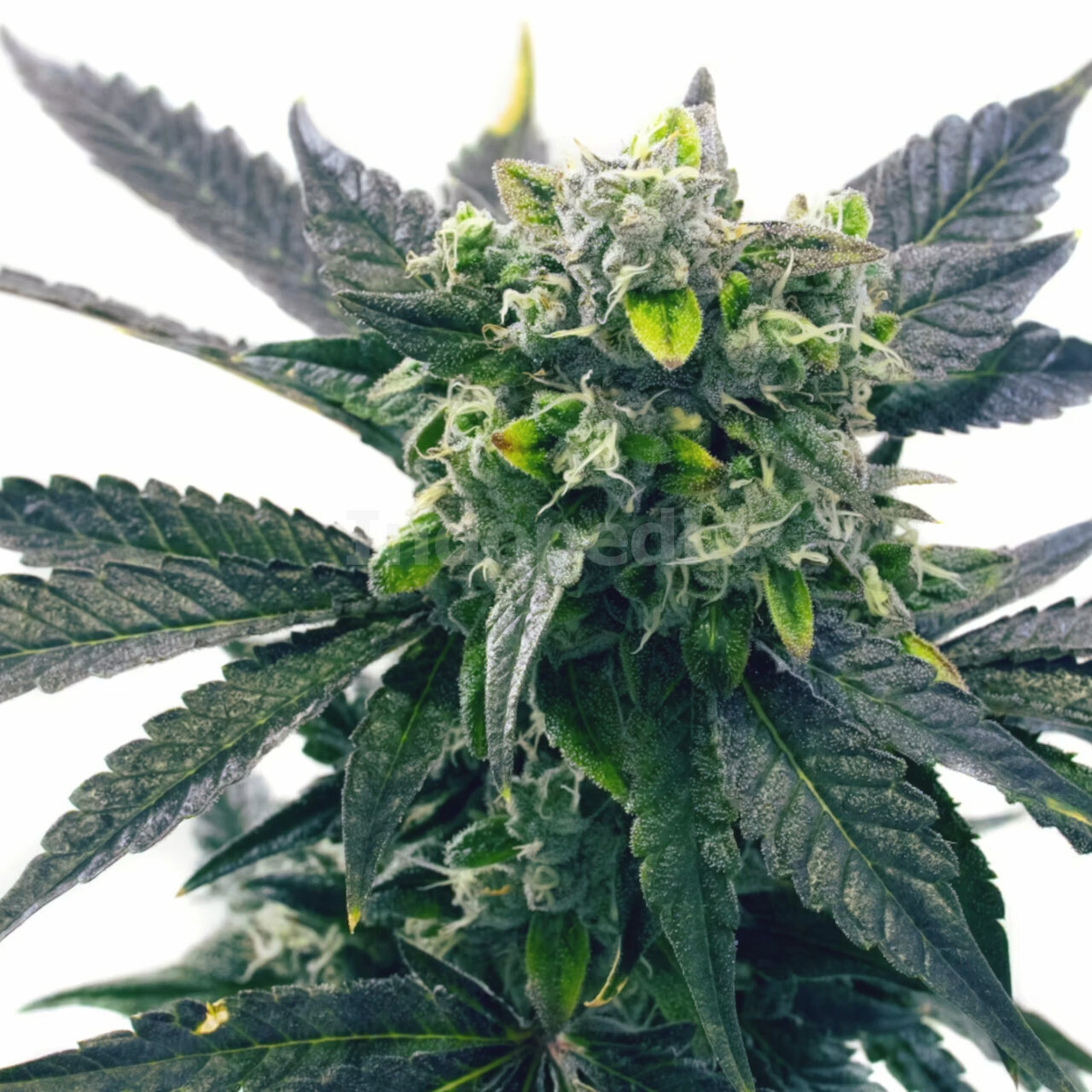 Price Per Seed:
$
9.58
Introduction to Blue Cookies Feminized Cannabis Seeds
Looking to buy Blue Cookies feminized cannabis seeds online in the USA? Look no further! Indopedia Seed Bank is your one-stop shop for high-quality, affordable cannabis seeds. With our extensive selection and fast, discreet shipping, you can easily purchase Blue Cookies feminized seeds and have them delivered right to your door. Whether you're a seasoned grower or just starting out, these legendary seeds are perfect for anyone looking to cultivate their own stash of this all-time favorite strain.
Fast US-Based Shipping
When you order Blue Cookies feminized seeds from Indopedia Seed Bank, you can expect fast shipping to all fifty states. Our domestic shipping ensures that your package arrives quickly and discreetly, so you can start growing as soon as possible. Plus, we offer free shipping on orders over $99, making it even easier to get your hands on these incredible seeds. Don't settle for international shipping delays and customs hassles – choose Indopedia Seed Bank for all your seed needs.
Key Characteristics of Blue Cookies
Flavor: Irresistible buttery biscuits and berry
Effects: Uplifting yet calming
THC Content: Up to 21%
Indica/Sativa Ratio: 90% Indica / 10% Sativa
Growth: Short plants with thick foliage and colorful flowers
Medical Benefits: Pain management, stress reduction, improved sleep
Genetics and Origins of Blue Cookies
Blue Cookies feminized seeds are the result of crossing two legendary strains: Girl Scout Cookies (GSC) and Blueberry. This potent combination creates a 90% indica and 10% sativa hybrid that is loved for its exceptional flavor and effects. The plants stay short in stature, with thick foliage and beautiful flowers that display shades of green, blue, and purple. Coated in a silver trichome frosting, these buds are as visually appealing as they are delicious.
Feminized Seed Advantages
Blue Cookies feminized seeds have the advantage of being guaranteed to produce only female plants. Female plants are the ones that produce the resinous buds we all love, while male plants are responsible for pollen production. By eliminating the risk of male plants, feminized seeds save growers time and effort by ensuring a higher yield of potent, smokable buds.
Benefits of Photoperiod Seeds
Photoperiod seeds, like Blue Cookies feminized seeds, offer growers the ability to control when their plants enter the flowering stage. This is especially beneficial for indoor growers who can manipulate light cycles to trigger flowering when desired. Outdoor growers can also take advantage of photoperiod seeds by planning their planting schedule to align with their local climate and seasonal changes.
Blue Cookies Seeds Germination Guide
Soak seeds in purified water for 24 hours.
Place moist paper towels on a clean plate.
Transfer seeds onto paper towels using clean tweezers.
Cover seeds with another layer of moist paper towels.
Keep plate in a dark, dry cupboard for up to five days.
Check regularly and spray with water if paper towels begin to dry out.
Once taproots appear, transfer seeds to pots or chosen growing medium.
How to Cultivate Blue Cookies
Cultivating Blue Cookies feminized seeds is a rewarding experience, whether you're a beginner or an experienced grower. These resilient plants can withstand harsh weather and common diseases, making them a great choice for any grower. Whether you choose to grow indoors or outdoors, ensure your plants have enough space and receive proper care, including regular trimming of older leaves to promote airflow and light penetration.
Blue Cookies Growing Difficulty
Blue Cookies feminized seeds are known for their forgiving nature and ability to adapt to different growing conditions. While they may require some care and regular feeding, these plants are suitable for growers of all skill levels. With proper attention, even beginners can achieve impressive yields and high-quality buds.
Flowering Time of Blue Cookies
After transitioning from the vegetative stage to the flowering stage, Blue Cookies feminized seeds typically take 8-10 weeks to mature. Indoor growers can manipulate lighting schedules to optimize growth and flowering. Outdoor growers in the Northern Hemisphere can plant their seeds in April and expect a harvest by early September. These timeframes may vary depending on growing conditions and techniques used.
Average Height of Blue Cookies
Blue Cookies feminized plants stay relatively short in stature, making them ideal for indoor cultivation or outdoor spaces with height restrictions. These plants tend to expand laterally rather than vertically. To manage height, techniques such as pruning and training can be employed to ensure optimal growth while keeping plants at a manageable height.
Blue Cookies Crop Yield
With proper care and optimal growing conditions, Blue Cookies feminized seeds can produce medium to large yields. Indoor growers using the Sea of Green (SOG) method alongside these plants can expect yields of up to 14 oz./m². Outdoor growers can harvest an ample 19 ounces per plant.
Quality of Blue Cookies Buds
Blue Cookies cannabis buds are not only visually stunning, with their colorful flowers and silver trichome frosting, but they also boast exceptional flavor and aroma. The buds emit a delightful fruity fragrance, reminiscent of fresh berries, complemented by the familiar smell of baked goods. These flavorful flowers seduce the senses and act as an aphrodisiac, making them perfect for romantic evenings or social gatherings.
Dominant Terpenes in Blue Cookies
Terpenes are aromatic compounds found in cannabis that contribute to its flavor and aroma. Blue Cookies feminized seeds contain an assortment of terpenes, with myrcene being the dominant one. Myrcene is also found in mangos, lemongrass, and hops, adding to the complex fragrance profile of Blue Cookies buds.
Smell and Taste of Blue Cookies
Blue Cookies marijuana entices the senses with a delightful fruity fragrance, accompanied by the comforting scent of baked goods. The combination creates a confectionary delight that'll have you licking your lips in anticipation. When smoked, these buds deliver an irresistible flavor of buttery biscuits and berry, leaving you wanting more.
The Effects of Blue Cookies
Blue Cookies weed offers a balanced high that uplifts the mind while providing a calming effect on the body. Within minutes of consumption, users experience an uplifting sensation that brings joy and positivity without clouding judgment. This strain is known for its ability to relax muscles and promote an overall sense of comfort and relaxation. It can also act as an aphrodisiac, enhancing intimate moments with your partner.
Medical Uses for Blue Cookies
Blue Cookies cannabis offers a range of healing effects that make it popular among medical marijuana patients. It can help manage pain, reduce stress levels, and improve sleep quality. The strain's ability to trigger joy and positivity makes it beneficial for patients with depression or anxiety. In higher doses, Blue Cookies can be effective in treating insomnia, helping users achieve a restful night's sleep.
Buy Blue Cookies Cannabis Seeds Now in the USA
Ready to experience the incredible flavors and effects of Blue Cookies feminized seeds? Indopedia Seed Bank is your trusted source for high-quality cannabis seeds. Browse our selection online and order your Blue Cookies feminized seeds today. With our fast, discreet shipping and excellent customer service, you'll have your seeds in no time. Don't miss out on this popular strain – buy Blue Cookies feminized seeds now and start growing your own stash of this legendary variety.
Customer Reviews
A fantastic experience from start to finish. Fast shipping, flawless germination rates, and the end product is absolutely top-tier. Highly recommended.
This strain has it all - flavor, potency, and a high yield. I couldn't be happier!
Whoa, these seeds are a game-changer! I've never seen such vibrant and resinous buds before. The potency is off the charts, delivering a long-lasting and powerful experience. A definite winner in my book.
Strain Data Table
| Attribute | Data |
| --- | --- |
| CBD Content | 0.5 percent |
| Climate Zones | Continental, Mediterranean, Sunny, Temperate |
| Difficulty | Beginner |
| Dominant Terpenes | Myrcene |
| Effects | Calming, Euphoric, Happy, Hungry, Relaxed, Sleepy, Uplifted |
| Flavors | Berry, Earthy, Flowery |
| Flowering Time | 8–10 weeks |
| Flowering Type | Photoperiod |
| Genetics | Girl Scout Cookies x Blueberry |
| Grows Best | Greenhouse, Indoor, Outdoor |
| Harvest Month | September |
| Indica / Sativa | Mostly Indica |
| Indoor Plant Height | 14–23 inches |
| Indoor Yield | 14 oz/m2 |
| Moods | Relaxed, Uplift |
| Outdoor Plant Height | 14–23 inches |
| Outdoor Yield | 19 oz/plant |
| Seed Sex | Feminized |
| Symptoms | Anxiety, Arthritis, Depression, Inflammation, Insomnia, Migranes, Stress |
| THC Content | 21 percent |