Black Domina Feminized Cannabis Seeds
Purchase the premier Black Domina Feminized Cannabis Seeds for sale online in the USA. These top-notch marijuana seeds are available for immediate shipment to all areas nationwide.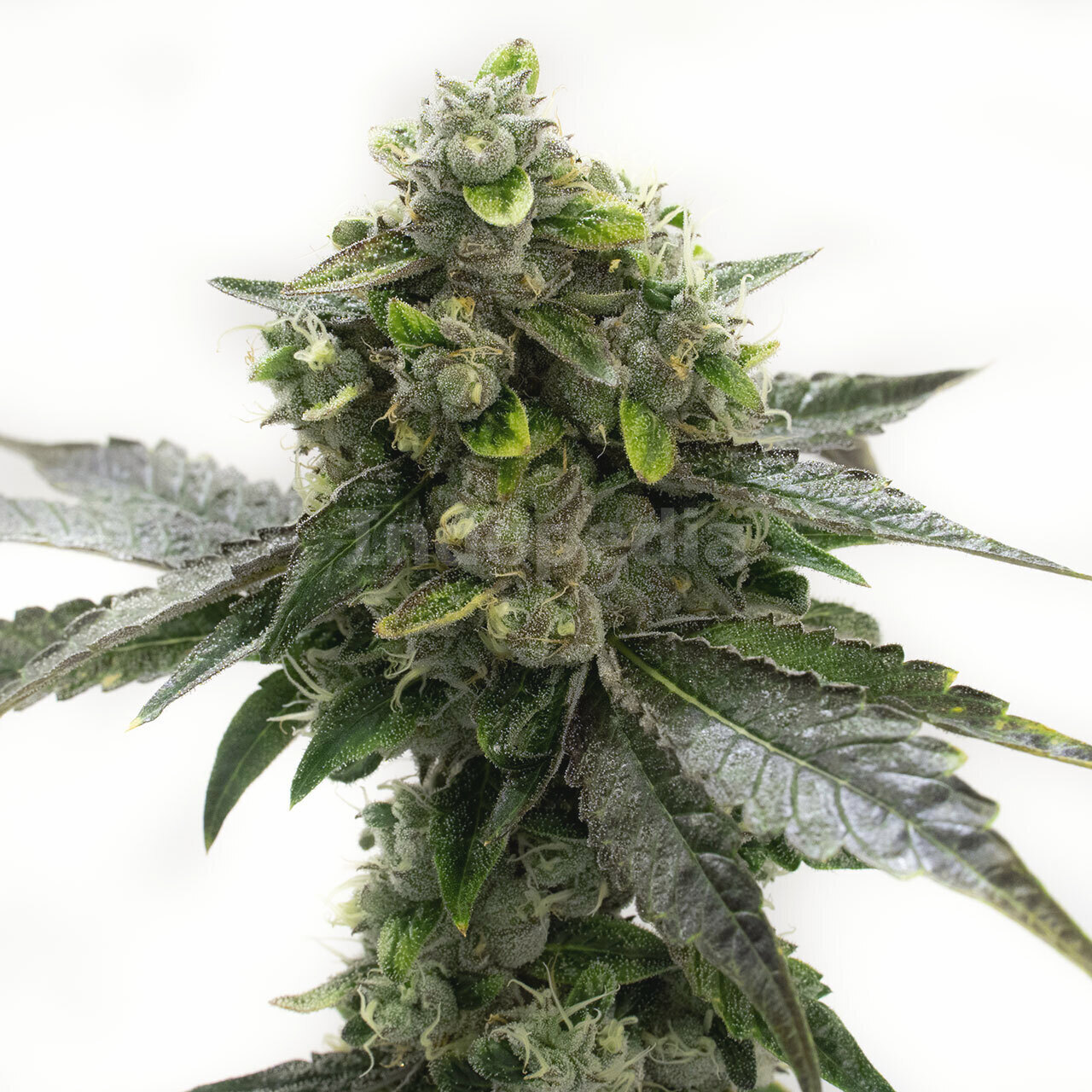 Price Per Seed:
$
9.38
Introduction to Black Domina Feminized Cannabis Seeds
Experience the allure of Black Domina feminized marijuana seeds, a strain that will captivate your senses and deliver an exceptional growing and smoking experience. These seeds produce dark indica crops with stunning black foliage, making them a cult favorite among growers and cannabis enthusiasts alike. With its complex genetics and impressive yields, Black Domina is the perfect choice for those seeking top-shelf cannabis plants with minimal effort.
Fast US-Based Shipping
At Indopedia Seed Bank, we offer fast and reliable shipping throughout the United States. Our discreet packaging ensures that your order arrives safely and securely at your doorstep. Plus, with free shipping on orders over $99, there's no better time to buy Black Domina feminized cannabis seeds online from our trusted American seed bank.
Key Characteristics of Black Domina
Dark indica strain with striking black foliage
Afghani x Northern Lights x Hash Plant x Ortega cross
Dense foliage and numerous bud sites
Generous yields with minimal effort
Saccharine fragrances and complex flavors
Powerful physical relaxation and mental euphoria
Excellent therapeutic properties for stress relief and pain management
Feminized Seed Advantages
Feminized cannabis seeds offer many advantages to both beginner and experienced growers. These seeds are specifically bred to eliminate the risk of male plants, ensuring that every seed you plant will produce a female plant. This saves growers time, effort, and resources by eliminating the need to sex plants and remove males.
Benefits of Photoperiod Seeds
Photoperiod seeds are ideal for both indoor and outdoor growers. These seeds require a specific light cycle to transition from the vegetative stage to the flowering stage. Indoor growers can easily control the light cycle to ensure optimal growth and flowering. Outdoor growers can take advantage of seasonal changes to trigger the flowering stage.
Black Domina Seeds Germination Guide
Gather supplies: two paper towels, a bottle of water, a clean plate, tweezers, and your Black Domina feminized seeds
Moisten one paper towel and place it on the plate
Using tweezers, gently pick up a seed and place it on the moist paper towel, leaving space between each seed
Cover the seeds with another moist paper towel
Leave the plate in a dark and warm area, such as a cupboard
Check on the seeds daily, removing any that have sprouted and re-moisten the remaining seeds if necessary
Continue this process for five days or until all seeds have sprouted
Plant the sprouted seeds in shallow soil with the root side facing down
How to Cultivate Black Domina
Cultivating Black Domina is a straightforward process that rewards growers with impressive yields. Whether you choose to grow indoors or outdoors, providing optimal conditions is key to successful growth. Here are some general tips for cultivating Black Domina:
Maintain temperatures between 70-80°F with a relative humidity below 50%
Regularly water your plants, allowing them to dry out slightly between waterings
Provide generous NPK feedings to promote healthy growth
Trim your plants during the vegetative and flowering stages to enhance airflow and prevent mold
Use strong grow lamps or provide ample sunlight exposure for optimal plant development
Black Domina Growing Difficulty
Black Domina is known for its ease of cultivation, making it suitable for growers of all levels. Its indica genetics make it resistant to adverse weather conditions, pests, diseases, and mold. With minimal effort, you can achieve abundant yields of top-tier cannabis flowers that will take the edge off your day.
Flowering Time of Black Domina
The flowering time of Black Domina varies depending on the growing environment. Indoors, these plants typically flower within 8-9 weeks. Outdoor cultivators can expect to harvest in late September. Keep a close eye on your plants for signs of maturity, such as orange pistils and milky-white trichomes.
Average Height of Black Domina
Black Domina plants grow to a compact height, making them suitable for both indoor and outdoor cultivation. Indoors, they reach a height of approximately three feet. Outdoors, they can stretch up to four feet or more. If space is a concern, techniques such as low stress training (LST) or topping can help manage height.
Black Domina Crop Yield
Black Domina is known for its generous yields, rewarding growers with an abundance of high-quality buds. Indoors, you can expect to harvest over 21 ounces per square meter. Outdoor growers can anticipate yields of over 24 ounces per plant. To maximize yield, ensure your plants receive proper nutrition, lighting, and care throughout their growth cycle.
Quality of Black Domina Buds
The buds produced by Black Domina are visually striking and boast exceptional quality. These dense, resinous buds feature deep green leaves that turn purple and black during late flowering. With their saccharine fragrances and complex flavors, Black Domina buds are a true delight for the senses.
Dominant Terpenes in Black Domina
Terpenes are responsible for the unique fragrances and flavors found in cannabis. Black Domina is rich in a variety of terpenes, including:
Linalool: Known for its relaxing and calming properties, linalool contributes to the sweet floral aroma of Black Domina
Myrcene: This terpene has a musky aroma and is believed to enhance the sedative effects of Black Domina
Caryophyllene: With its spicy and peppery scent, caryophyllene adds depth to the fragrance profile of Black Domina
Smell and Taste of Black Domina
The aroma of Black Domina is a delightful blend of musky earthiness, herbs, spices, ripe summer fruits, fresh citrus, and hints of nuts. Combustion deepens the scent, filling your room with notes of wet earth, pepper, pine, and walnut. The flavor profile is equally complex, offering a mashup of sweet berries, citrus, black pepper, tart blackberries, and hints of hashish.
The Effects of Black Domina
Black Domina delivers a tranquilizing experience that relaxes both the mind and body. With THC levels reaching up to 20%, this strain provides immediate relief from stress and tension. The high begins in the head, gradually spreading throughout the body, inducing a fuzzy warmth and dreamy thoughts. It's perfect for unwinding after a long day, engaging in chill sessions with loved ones, or simply enjoying a blissful night of rest.
Medical Uses for Black Domina
Black Domina offers a range of therapeutic benefits, making it a popular choice among medical cannabis users. Its potent indica effects provide relief from various conditions, including post-traumatic stress disorder (PTSD), inflammation, muscle injuries, chronic pain, Crohn's disease, multiple sclerosis, epilepsy, depression, and anxiety. The strain's relaxing properties can also aid in appetite stimulation and sleep improvement.
Buy Black Domina Cannabis Seeds Now in the USA
Don't miss out on the captivating allure of Black Domina feminized cannabis seeds. Shop Indopedia Seed Bank today to purchase these top-shelf seeds from our trusted American seed bank. With our fast and reliable shipping, discreet packaging, and exceptional customer support, we ensure a seamless purchasing experience. Order now and elevate your cannabis cultivation journey with Black Domina marijuana seeds.
Customer Reviews
Absolutely fantastic seeds! The plants are robust and healthy. The resulting product has an amazing aroma and is super potent.
Delivered on time and discreetly. The plants grew beautifully and produced some really potent buds.
These seeds are pure magic! The plants grew like champs, dense buds with amazing trichome coverage, and the aroma fills the room. 5/5 would grow again!
Strain Data Table
| Attribute | Data |
| --- | --- |
| CBD Content | 0.3 percent |
| Climate Zones | Continental, Mediterranean, Sunny, Temperate |
| Difficulty | Beginner |
| Dominant Terpenes | Caryophyllene |
| Effects | Euphoric, Happy, Hungry, Relaxed, Sleepy, Tingly |
| Flavors | Citrus, Earthy, Nutty, Pepper, Spicy, Sweet |
| Flowering Time | 6–8 weeks |
| Flowering Type | Photoperiod |
| Genetics | Afghani x Ortega x Northern Lights x Hash Plant |
| Grows Best | Greenhouse, Indoor, Outdoor |
| Harvest Month | October |
| Indica / Sativa | Mostly Indica |
| Indoor Plant Height | 9–14 inches |
| Indoor Yield | 16 oz/m2 |
| Moods | Relaxed |
| Outdoor Plant Height | 23–39 inches |
| Outdoor Yield | 25 oz/plant |
| Seed Sex | Feminized |
| Symptoms | Anxiety, Arthritis, Depression, Insomnia, Migranes, Stress |
| THC Content | 18 percent |